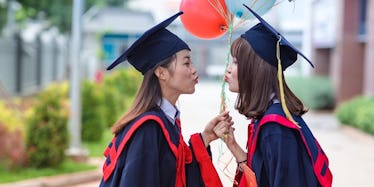 8 Hilarious Things You Definitely Did With Your Sister In High School
Pixabay
High school is a really awkward time. However, that awkwardness is made just a little bit easier when you have someone to navigate it with.
I was lucky enough to have one year of high school with my older sister before she went off to college. She was a cool senior when I was a totally lost freshman.
Sure, she didn't always want to associate with her nerdy little sis, but when we did hang out it was special – and I'm eternally grateful to have had my BFF there.
If you are close enough in age to your sister that you were able to go to high school together, you know that time in your life was important.
Even if looking back on it now you may think, "What was I even doing? And what was up with that hair choice?"
You had your sister there when you made these bad choices, and she helped you through it. Here are eight hilarious and totally relatable things you definitely did with your sis in high school.
1. Her Closet Was Your Closet
Even if it was a complete no-no to go into your sister's room, you probably snuck in there every once in a while to borrow something from her closet.
You promised to get it back before she even noticed, but you know sometimes even the best spies get caught.
So you probably used the whole "mom must have accidentally put it in my room when she was doing laundry and I got confused" excuse. I'm sure everyone uses that excuse, right?
In high school, you were lucky to have two closets – even if one was technically off limits. Mi closet es su closet.
2. You Guys Were Fortresses Of Secrets
To this day, I keep a secret with my sister from high school. I'm not great at keeping secrets, but this is one I've kept.
It's funny that this one stuck, because it's not even that bad, but the keeping of the secret was the fun part.
You keep secrets about your sister's boyfriends and staying out past curfew. It was fun to hide things from your parents together.
It bonded you in solidarity.
3. Your Go-To Concert Buddy
Going to concerts was a big thing when you were in high school.
My sister and I had a band we saw every year. None of our friends really liked them as much as we did, so we were concert buddies.
Concert day consisted of driving there listening to the band's songs, standing there for hours, finally seeing them, and then spending the drive home with lost voices singing those songs once again. You really made a day out of it.
4. You Were Survival Guides
Between navigating your parents and high school, you and your sister used each other as survival guides.
My sister helped me with things like what teachers I should take, how to avoid any kind of gym class, and dealing with high school heartbreaks. I helped her with secrets to getting out of trouble when it came down to our parents.
It's easier to get through a difficult time when you have a handy resource to help you through.
5. Exchanging Music
I love sharing music with my sister. She's the only one that gets what I like, and I'm not embarrassed to tell her what my guilty pleasure songs are.
In high school, we used to exchange mixed CDs.
Nowadays, people exchange Spotify playlists, but we loved coming up with a playlist of songs that could only fit on one compact disc.
6. Ditching School Together
High school is very stressful, so you have to play hooky to stay sane. Ferris Bueller knew what was up.
If you and your sister were lucky enough to escape every once in a while, you took advantage of it.
Using the mental break day to sleep in, go to the beach, or even just stay in and watch TV. You guys had each other's backs to keep it from Mom and Dad.
7. Dancing To Your Favorite Songs
You really can dance like no one is watching with your sister, because you know she won't judge you.
My sister and I love to dance. We used to come up with dance routines that went too perfectly with the lyrics that they were embarrassing – but they were our stupid dances to perform.
Even at school dances, you and your sister had songs that when they came on, you just knew it was time to let it all out on the dance floor.
8. The Ride To And From School
I was lucky that my sister drove me to school. Those drives were very special to me.
At home you had your parents, and at school you had your friends. This was just sisterly bonding time.
The rides to and from school was where a lot of our inside jokes come from. They were special times where you got to talk and listen to music.
High school is a weird time for all of us. Some of us were just lucky enough to have a sister there to turn the awkward adventures into now hilarious stories to tell our friends.