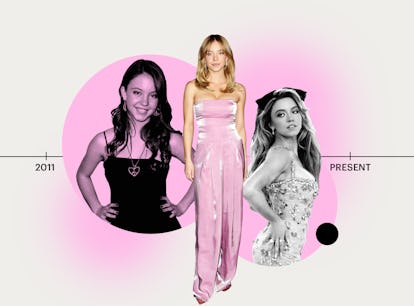 Sydney Sweeney's Style Evolution Is As Versatile As Her Characters
Sydney Sweeney is easily one of the most versatile actors of her generation. From sensitive Cassie in Euphoria to innocent Eden in The Handmaid's Tale, and outspoken Olivia in The White Lotus in between, there's truly nothing she can't do — and the same goes for her fashion and beauty looks. Sweeney's style evolution is clear proof of that.
As the 27-year-old has climbed the acting ranks in the past few years, fans have watched her seamlessly try different aesthetics as easily as she goes from a handmaid in a dystopian world to a student at a wildly chaotic school, despite the advice from her stylist, who told her to "pick a lane." This year alone, she wore a black suit with large cutouts to one event; a transparent maxi skirt with a cropped tank to another; and a glitzy blush gown with black bow accents to one that followed. The actor is always keeping fans at the edge of their seats: Will she be edgy? Romantic? Glamorous? It's anyone's guess.
Below, you'll find Sydney Sweeney's style evolution, from one of her earliest red carpets in 2011, to her most recent Met Gala appearance over a decade later.
Who knows what style Sweeney will pull out next!