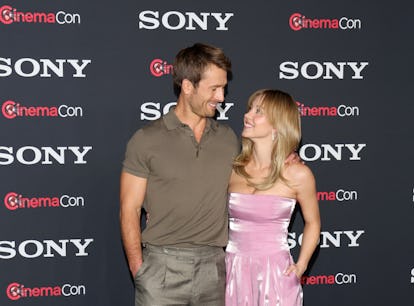 Sydney Sweeney & Glen Powell Are Single-Handedly Reviving Rom-Com Horniness
Their movie isn't even out yet, but their chemistry is already off the charts.
Gabe Ginsberg/WireImage/Getty Images
Movie lovers look back on the '90s and early 2000s as the golden age of rom-coms, but the genre is making a huge comeback in 2023. And it's all thanks to Sydney Sweeney and Glen Powell. Their upcoming movie Anyone But You is still shrouded in mystery, but that doesn't matter. All that really matters is how its two stars interact — and social media simply cannot get enough of Sweeney and Powell's steamy magnetism. Memes about Sweeney and Powell's undeniable chemistry while filming Anyone But You have taken over the internet, and fans are already crediting them with ushering in a long-gone age of juicy rom-com intrigue.
Sweeney and Powell filmed their romantic comedy Anyone But You in Australia throughout the start of 2023, and as production progressed, fans grew more and more obsessed with the increasingly adorable pics they posted together. Things started out innocent enough with some goofy set photos and pictures of them feeding a giraffe together, but then progressed to Sweeney meeting Powell's family and posting a full photo-dump of the pair beaming together exploring Australia.
When photos of Sweeney and Powell sharing a passionate kiss and flirting up a storm in character while filming the movie hit the internet, everyone went feral. And a romantic clip of Powell dipping Sweeney immediately went viral.
Soon, the mania for Sweeney and Powell's chemistry took over social media.
And the chemistry was so strong, it created cheating rumors. Sweeney's been engaged to businessman Jonathan Davino since early 2022, and Powell has been dating model Gigi Paris since 2020. Although there's been nothing official about either of these couples breaking up, tons of speculation about just how close Sweeney and Powell had gotten arose when Paris seemingly unfollowed Sweeney on Instagram.
Surprisingly, the majority of movie fans celebrated the cheating rumors, even claiming that they were a return to form for romantic comedies — á la the Brangelina scandal surrounding 2005's Mr. and Mrs. Smith.
Just to reiterate: There hasn't been any actual confirmation that Sweeney and Powell hooked up when the cameras weren't rolling. But all the intrigue is certainly increasing the hype for what's sure to be the steamiest new rom-com of the year. Anyone But You doesn't have a release date yet, but hopefully we'll get to see the movie that launched a thousand thirsty tweets before the end of 2023.