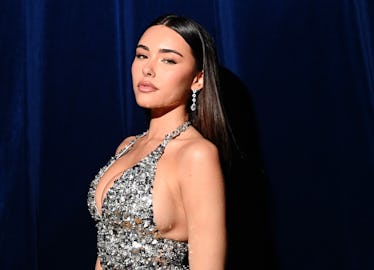 Madison Beer Is So Here For This Controversial Y2K Style Trend
Plus, the singer's take on the foodie girl side of #FashionTok.
Ryan Emberley/amfAR / Contributor/Getty Images
Madison Beer is as well-known for her chart-topping singles as she is for her fluffy soap brows, pillowy lips, and blushed cheekbones. Whether you've tried recreating her signature makeup look or sampled her Morphe collab or Know Beauty collection with Vanessa Hudgens, it's surprising to find out that Beer's beauty routine is actually pretty low-maintenance these days. "Personally, I'm just all about extra blush and brown eyeshadow right now," the 24-year-old tells Elite Daily at the JBL Authentics speaker launch party in Las Vegas.
While the Silence Between Songs musician is constantly showing off cop-worthy beauty inspo on your FYP, she says she's at a bit of a loss when it comes to the latest TikTok beauty trends. "I think that the names for these makeup looks are so funny, like 'strawberry girl' and 'coffee latte cocoa girl'," she says, laughing. "But I think they're cute and I'm down to try them at some point."
As Beer's go-to beauty look has evolved, so has her style — and she's so here for the Y2K fashion resurgence, even going as far as defending one controversial trend: low-rise bottoms. "High-waisted anything was my thing for a long time along with everyone else, and I hate it now," she admits. "Literally, I would rather die than be in high-waisted jeans now."
Instead, the "Home to Another One" singer is currently embracing the return of low-rise styles, insisting it "looks so much better" on her body. "I have a really short torso, so high-waisted jeans just look f*cking bizarre on me, and I didn't realize that until recently." Now that Beer is officially a "low-rise girl," fans can expect more 'fits inspired by the early 2000s, such as the Gossip Girl-esque khaki pleated skirt with an oversized belt paired with the black satin corset she wore to the JBL party, alongside the Culpo sisters.
The jury might still be out on whether the low-rise styles beloved by Paris Hilton and Britney Spears should be making a comeback across the board — at least for the millennials who are only just allowing for skinny jeans to die at Gen Z's insistence — but no matter what Beer wears, you know it'll always be a slay.