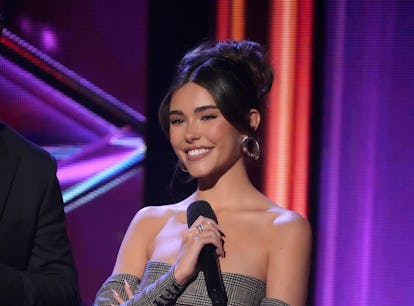 Madison Beer May Have Just Released The Ultimate Scooter Braun Diss Track
It looks like Scooter Braun's recent downfall now has a theme song. Shortly after reports that the music manager was dropped by nearly all of his A-list clients, Madison Beer released a scathing power ballad that seems to be inspired by her time working with Braun. Beer hinted at the song's inspiration on TikTok, and Hailey Bieber, the wife of Braun's most famous client Justin Bieber, even weighed in on it.
In "King of Everything," the last track on Beer's newly released album Silence Between Songs, she sings about a fame-hungry person who uses others to gain success, only to watch it all crumble away. "Look what you've done / Taken advantage of people so young / Ridin' the high road / On everyone's lows," Beer laments in the second verse.
The pointed lyrics immediately sparked theories that Beer could be singing about her former manager Scooter Braun, and Beer stoked that fire even more by posting a vague TikTok avoiding the question of who inspired the song. Naturally, the comments section filled up with fans detailing why they think the song about a merciless social climber was about Braun, and even Hailey Bieber popped up. "Wellll IIIII THINKKK…. ✨," Bieber simply replied. Notably, Bieber is married to Braun's best-known client, Justin Bieber.
The new song arrived about a month after reports surfaced that most of Braun's famous clients had dropped him as a manager. Demi Lovato, Ariana Grande, and even his first superstar Justin Bieber reportedly cut ties with Braun in August, after years of working closely with him. Beer was also signed to Braun's management when she began her singing career in the mid-2010s. But it wasn't until after she left Braun that she was finally able to release her first album, Life Support, in 2021.
Beer has previously described her time under Braun as feeling like she was being told, "Oh you don't have a say, you don't know what you're talking about, little girl." In a 2021 interview with The Forty-Five, Beer detailed her reasons for parting ways with Braun. "I hold value and if you can't see it and don't want me to have a voice, I am out," she said. "There are times where I haven't felt heard, and I think 'I won't back down,' I don't care how big and scary you are, if you're the head of a label, or a president. I will not be demeaned."
Listen to Beer's new song "King of Everything" for yourself below: