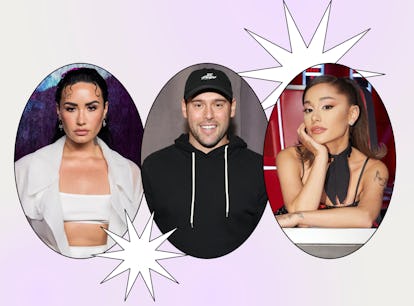 Oof, Demi Lovato & Ariana Grande Dropped Scooter Braun As Their Manager
Idina Menzel has just entered the chat, too.
Jason Koerner/Getty Images Entertainment/Getty Images/NBC/NBCUniversal/Getty Images/Michael Tran/Getty Images Entertainment/Getty Images
Scooter Braun's list of talent is shortening by the minute. According to Variety, Demi Lovato cut ties with the well-known music manager after four years of working together. The outlet first reported the split on Aug. 21, and that seemingly set off news that other artists were leaving Braun's SB Projects management company. That same day, Billboard reported Ariana Grande also parted ways with him.
The news of Lovato — who uses both she/her and they/them pronouns — and Grande exiting SB Projects shocked fans, as they've been under Braun's wing for a while. Lovato hired Braun as her manager in May 2019, and described their connection as a "dream come true" in a since-deleted Instagram post that year. Even with their history, it appears there's no bad blood in Lovato's decision to leave. A source told Variety the singer's departure was "mutual and amicable" and that they're currently looking for new management.
Since signing with Braun, the "Swine" singer has gravitated towards creating punk-rock music (2021's Holy Fvck). She's full-fledged in her rockstar era, as she's reimagining her most iconic pop hits in the new genre on her upcoming Revamped album. While Lovato hasn't addressed their reasoning for leaving, it appears this new sonic lane might've influenced it. "It's time for Lovato to go in a new direction, even though she was thankful for her time with SB Projects," another source told Billboard.
As for Grande, she nor Braun have revealed details behind their split. However, the timing of her leave is interesting. Three days before her departure, Grande shared she's re-releasing her debut album, Yours Truly, on its 10th anniversary. This was a rather notable announcement, as she signed and worked with Braun on that same album in 2013.
It's not clear if Braun had any creative direction on the upcoming re-release. But that didn't stop fans from revisiting Grande's catalogue— specifically, eyeing her 2016 underrated (and *iconic*) track "Jason's Song." The single, a Broadway-influenced ballad by Jason Robert Brown, sees Grande reclaiming her power as an artist in a cutthroat industry. Fans have theorized the track was about Braun, as it released the same year she briefly fired him as a manager.
In a 2018 interview with Variety, Braun hinted one of Ariana's "sh*tty boyfriend's" at the time inspired her to part ways with him. However, the separation wasn't long, and they reunited months after.
Grande and Lovato join a roster of artists who've left Braun's management company. On Aug. 22, one day after their departures, Idina Menzel's team announced she hasn't been managed by Braun since January. J Balvin, who signed with SB Projects in 2019, split from Braun in May and has since signed with Roc Nation. Though she wasn't directly signed to Braun, Taylor Swift also had an infamous falling out with him over her masters. That later spawned into her now-popular reputation of re-recording her older albums.
There were also rumors that Justin Bieber, who's worked with Braun since 2008, was also potentially seeking new management. However, representatives for both Bieber and Braun shut down those speculations. Yeah, this is one dramatic week for Braun's management empire.
This article was originally published on