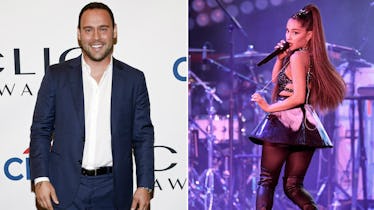 Ariana Grande's Manager Opened Up About The Time She Fired Him & It's Intense
Brian Ach/Getty Images Entertainment/Getty Images; Kevin Winter/Getty Images Entertainment/Getty Images
What goes around, comes around, y'all! Just ask Ariana Grande's manager, Scooter Braun. Braun has also worked with both Kanye West and Justin Bieber, and he recently got real about the time back in 2016 when "The God Is A Woman" singer gave him the boot. And lemme tell you, I'm really glad he decided to open up about his experience, because Scooter Braun's story about Ariana Grande firing him during her relationship with a guy he called a "sh*tty" boyfriend is legit inspirational.
As part of a talk at Fast Company's Innovation Festival on Oct. 23, Braun went deep about what it was like when Grande fired him, and what he learned from the experience. Elite Daily reached out for clarification of his comments, but did not hear back by the time of publication.
"I watched this other manager get fired, and I saw him defend himself instantly and put out a lot of truths. And I watched the artist see those truths, not want to deal with it, and then forever hate that manager," he explained. "With Ariana, I could have said a lot of stuff, and in fact my team wanted me to, because they were p*ssed. They were like, 'Never take her back!,' but I just said 'Let's stay quiet and let our truth be our actions.'"
So why did Grande fire him in the first place? Apparently, it had something to do with one of her exes, at least in part based on what Braun said next.
"And when the sh*tty boyfriends leave, she starts to see the light on some stuff, and one day I got a phone call," he continued. "She said, 'Can I see you tomorrow?' and I said, 'No, I'm busy' — I actually couldn't, so I said, 'I could see you Thursday' or whatever and I went over there and we had a very honest conversation."
Man, he is just spilling all the tea. And now I just wanna know which "sh*tty" boyfriend he's talking about, don't you? So let's rewind to 2016 for a sec. There was her backup dancer Ricky Alvarez, who she dated for a year before calling it quits in July. And then there was Mac Miller, who she started dating a few months later in September. But since news first broke that Grande and Braun had parted ways in Feb. 2016, all signs point to Alvarez. But who knows?
Anyway, according to Braun, the fact Grande let him go actually made him a better manager. "It allowed me to know that I can be fired," he said. "I had never been fired before. It made me know that as much as you give to people in a service business — we do a lot of asset business, but this is a service business — you can never expect anyone to reciprocate. You have to do it for the right reasons, and if you get screwed over in the end, so be it, and hope you had a hell of the ride along the way."
Preach!
Braun also said his firing changed his relationship with Grande for the better. "It made me and her really tight," he explained. "Because now when we get into those fights and she's coming at me, I just go, 'Woah, do you want to go back to where we were?' and then it kinda calms down."
Looks like all's well that ends well, fam!