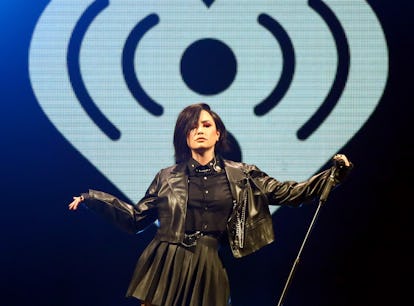 Demi Lovato Is Going Full Rocker By Revamping Their Greatest Hits In A New Album
Your fave songs just got even better.
Adam Glanzman/Getty Images Entertainment/Getty Images
Demi Lovato's discography is getting a major makeover. The pop star is embracing their recent turn to rock 'n' roll by reimagining some of their biggest hit singles in a whole new genre. So grab your leather jackets and black nail polish, because Lovato's new album Revamped has a familiar track list with a whole new sound, as well as some serious featured artists.
Lovato announced Revamped on July 14, after giving their fans a taste of some of the new rock versions that would be on the album. The new project is an extension of Lovato's pivot to a grittier rock sound, as exemplified in their 2022 album Holy Fvck. Ahead of that album's release, Lovato held a funeral for their pop music, ushering in their new era. During their Holy Fvck tour, Lovato performed remixed versions of their past hits with a new rock twist — these are the versions of the songs that will be featured on Revamped.
The Revamped singles started coming out earlier in 2023. Back in March, Lovato released the rock version of "Heart Attack," followed by the rock version of "Cool for the Summer" in May. Here's what other bops you can expect to be banging your head to when Revamped is released.
Demi Lovato's Revamped Track List
Revamped will consist of 10 tracks, but Lovato hasn't revealed which songs they will be yet. The only confirmed tracks so far are the three released singles: "Heart Attack," "Cool for the Summer," and "Sorry Not Sorry." Lovato also teased her song "Tell Me You Love Me" may be included on the album in her Rolling Stone interview announcing the project.
Demi Lovato's Revamped Featured Artists
Most of Lovato's biggest singles don't feature other artists, but Revamped could take a different route when reinterpreting those songs. The rock version of "Sorry Not Sorry" features Guns N' Roses guitarist Slash, but so far, that's the only confirmed feature on Revamped.
Demi Lovato's Revamped Release Date
Revamped will be released on Sept. 15. Pre-orders are available online now.