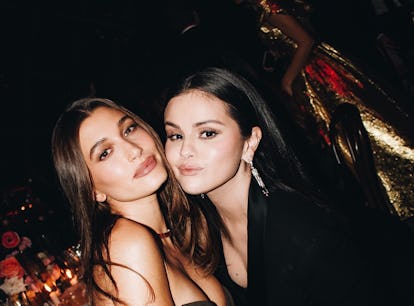 Hailey Bieber Called The Obsession With Her "Made-Up" Feud With Selena Gomez "Vile"
"It's so disappointing that people still behave this way over a man."
Tyrell Hampton
Hailey Bieber isn't mincing words when it comes to the TikTok sleuths who have repeatedly revived her "made-up" feud with Selena Gomez. There have been constant rumors about the two women taking veiled shots at one another ever since Bieber married Gomez's ex Justin Bieber in 2018. The drama recently resurfaced yet again when TikTokers latched onto some seemingly shady videos between Bieber and Gomez. Now a few months out from the controversy, Bieber got candid about how she really feels about the persistent obsession with her relationship with Gomez online, saying that it underlies a deeper issue about how social media can divide people.
Bieber theorized that the fascination with a possible celeb feud between Gomez and herself isn't really anything personal, but more of a societal issue. "I don't think that this is about me, Hailey Bieber, and Selena Gomez — this is not about this pitting between two women and division between two women," Bieber said in a June 29 interview with Bloomberg. "It's about the vile, disgusting hatred that can come from completely made-up and twisted and perpetuated narratives. That can be really dangerous."
This perceived animosity between Bieber and Gomez has overtaken social media several times throughout the years, but each flare-up ends the same: both women have consistently asked their followers to stop the hate and repeatedly confirmed they don't have any beef. Most memorably, the two posed for photos together at a party in 2022 in an attempt to end the divisive narrative once and for all.
Bieber said these moments were important for her as a way to try to make social media less of a toxic place. "I think that it's an opportunity to really stand for bringing people together, because I'm not OK with the kind of division that it caused," she said. "I don't like this whole idea of Team This Person and Team This Person. I'm just not about that. I want to be able to bring people together. I think that was a really important moment for people to see that you can do that."
In particular, Bieber can't stand the narrative of women "being pitted against each other because of a guy." "It's awful. I hate it," Bieber said. "I've hated it since the beginning. And I think that kind of goes back to a little bit of just being misunderstood when it's like time and time again I don't know why I keep having to say, and we keep having to say, that there is no issue and there is no problem. It's so disappointing that people still behave this way over a man. It's the world we live in unfortunately."