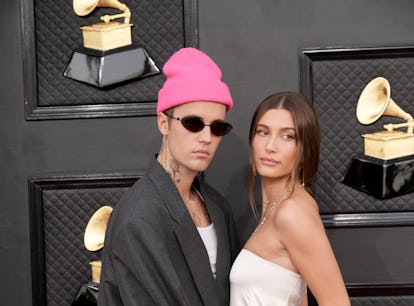 Untangling Justin & Hailey Bieber's Relationship Timeline, Once & For All
Justin called their meet-cute an "arranged marriage."
Jeff Kravitz/FilmMagic, Inc/Getty Images
After years of friendship, Justin and Hailey Bieber tied the knot in a low-key courthouse wedding in September 2018 before celebrating their marriage again a year later. Although they've been devoted to one another ever since, that hasn't stopped speculation about their relationship. In light of the latest bout of TikTok drama, fans have been paying even more attention to Justin and Hailey's relationship timeline.
Unfortunately, it seems like you can't talk about Justin and Hailey without mentioning Selena Gomez. Justin had on-and-off relationships with Selena and Hailey between the years of 2011 and 2018. Although there's no way to know how much (or how little) they overlapped, that hasn't stopped fans from trying to decode every moment in their overlapping timelines.
It got to a point where Hailey actually addressed the speculation during her September 2022 interview on Call Her Daddy, explaining that it was "not [her] character to mess with someone's relationship." Per Hailey, she never "stole" Justin from anyone — Selena, included. "I can say, period, point blank, I was never with him when he was in a relationship with anybody — that's the end of it," she clarified.
Months later, however, things got complicated again after a fan theory circulated that Hailey and Kylie Jenner were shading Selena's eyebrow lamination. To straighten out some details, here's everything you need to know about Justin and Hailey's relationship timeline — from their first time meeting in 2009 to their weddings in 2018 and 2019.
2009: They Were Introduced
Hailey's actor/producer father, Stephen Baldwin, introduced the teens back in 2009. (Talk about nepo baby perks.) "We met in the early mornings of a Today show taping. I'm pretty sure she didn't want to be there. Her dad dragged her out of bed in the morning," Bieber recalled in a 2020 Ellen Show interview, per People.
"Looking back now, it was definitely an arranged marriage, like they set this whole thing up," he said. "Since she was raised Christian, it was like, 'Oh, I want to introduce you to Justin and his mom. They have similar values and believe the same things, we think you guys would be good friends.'"
After their first meeting, Bieber and Baldwin struck up a friendship, and the pair was photographed alongside her father at the 2011 Never Say Never premiere.
November 2014: Hailey Appeared On Justin's Instagram
Fresh off his 2014 split from Selena, Justin sparked rebound rumors when Hailey began making frequent appearances on his IG feed. But despite plenty of reports to the contrary, both Hailey and Justin refuted the claims. "I've known him since I was so young — since I was like 13 — and we've just been good friends over the years," Hailey told E!. "We have just stayed close and there's nothing more to it than that."
Meanwhile, Justin took to the 'gram to clear things up. "People are crazy. I'm super single and this is my good friend u would know otherwise," Bieber captioned a smiling shot of them together.
December 2014: They Celebrated NYE Together
Shortly after denying the romance rumors, the duo was back on social media documenting their New Year's together, a holiday that would later mark an important milestone in the relationship.
April 2015: They Went To The Same Prom
Through the spring and early summer of 2015, Hailey and Justin kept spending time together, strolling the streets of Beverly Hills, vacationing together, and even crashing proms. "Always wanted to go to prom. Thanks for having me. #promcrasher :)," Justin tweeted to Chatsworth Charter High School on April 26, 2015. Hailey claimed to be attending the same dance with fellow model and "date," Gabby Westbrook.
December 2015: Hailey Joined Justin's Family Vacation
Things started looking less platonic when Hailey and Justin enjoyed a tropical vacation alongside his family over the holidays in December 2015. Bieber continued to fill his Instagram with photos of his supposed pal and rumored girlfriend. "She thought we were taking a photo," he captioned one flirty post.
January 2016: They Went Went Instagram Official
After over a year of speculation surrounding their connection, Justin confirmed the romance with a PDA-filled Instagram just days into the new year. Later that day, he posted yet another cozy pic of them together.
February 2016: Hailey & Justin Opened Up About Their Romance
Justin dished on his connection with the supermodel in his 2016 cover story with GQ. "[She's] someone I really love," he confessed to the publication. "We spend a lot of time together." For her part, when questioned about Justin, Hailey told E!, "We are not an exclusive couple. He's about to go on tour. Relationships at this age are already complicated, but I don't really like to talk about it because it's between me and him."
August 2016: Justin Unfollowed Hailey
In August 2016, Justin started dating Sofia Richie. And after a heated Instagram argument with Selena Gomez over his new fling, Hailey was brought into the drama. According to People, "out of nowhere, Sofia apparently made him unfollow Hailey and now she and her friends are all super upset."
While the outlet noted that Bieber and Baldwin were "never officially a couple," it was reportedly known amongst their inner circle that they'd been an item earlier that year. A source reported that Hailey's ties to Drake in May 2016 may have caused a rift, as well: "Bieber wasn't happy about it, and so they haven't really been in touch in a bit."
December 2017: Hailey & Justin Reunited As Friends
Justin and Hailey reportedly mended fences in December 2017, when he was on-again with Selena. At the time, the friendly exes didn't speak on the phone or meet up in person, but rather exchanged a few texts over Justin's efforts to "clear the air."
May 2018: Hailey Spoke About Her Friendship With Justin
Speaking to Elle in May 2018, shortly after news broke of Justin and Selena's official split, Hailey opened up about their connection, saying, "Justin and I were friends for a long time. I met him when I was really young and he was one of my best friends. Everybody knows that at a certain point in time that turned into something else, but that just happens when you're 18, 19. It was what it was." However, according to her, they were able to move past that — and become friends again — after not speaking for awhile.
June 2018: They Were Spotted Kissing
Bieber and Baldwin took their recently renewed friendship to Miami in June 2018, where they were spotted attending a conference at VOUS Church and being "flirty" and "inseparable" at popular nightclub LIV. A source told E!, "They have finally cleared the air and rekindled their friendship, and realized they genuinely have a lot of fun together. Justin and Hailey planned to attend the church organization together and decided to make a fun weekend out of it."
A few days later, the duo took their relationship to New York, where they were spotted making out in Brooklyn. However, a source for People explained that though they were "hanging out," they were "not in a relationship."
July 2018: They Announced Their Engagement
Entertainment Tonight reported the pair was back on after "casually dating" for nearly a month. According to the insider, "Justin and Hailey have always been into one another. They dated in 2016 briefly, and the feelings never really went away."
A few days later, Justin announced they were engaged. "Was gonna wait a while to say anything, but word travels fast, listen plain and simple, Hailey, I am soooo in love with everything about you!" the singer wrote on Instagram. "So committed to spending my life getting to know every single part of you loving you patiently and kindly. I promise to lead our family with honor and integrity, letting Jesus through his Holy Spirit guide us in everything we do and every decision we make."
September 2018: They Got Married
Hailey and Justin got married a few months after their engagement, opting for a secret courthouse wedding in Manhattan. "They went ahead and did it without listening to anyone," a source close to the couple told People.
September 2019: They Got Married (Again)
Hailey and Justin hosted a more elaborate wedding celebration in Charleston on Sept. 30, 2019. "We kept it really small because it makes it so much more fun. And the little things that I was worried about, none of that energy got brought into the actual day," Hailey explained in their YouTube series, per E!. "Everything happened the exact way it was supposed to, I really believe that. Even all the little mishaps that might've happened and us stumbling over our words, whatever it was, I think that it was so meant to be."
February 2022: Hailey Opened Up About Wanting Kids
In a cover story for The Wall Street Journal, Hailey shared her and Justin's family plans. "I think I had it ingrained in my head that I was going to want to have kids right away and I was going to want to have kids super, super young. Then I turned 25 and I'm like, I'm still super, super young!"
She added, "I think ideally in the next couple of years we would try. But there's a reason they call it try, right? You don't know how long that process is ever going to take."
This article was originally published on