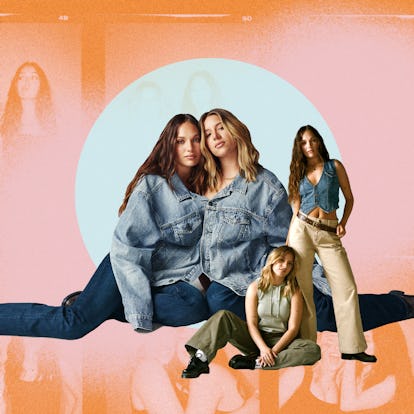 Maddie & Kenzie Ziegler On Back-To-School Trends & Their AE Collection
The sisters' new collab tackles the polarizing jeans debate between millennials and Gen Z.
American Eagle/Elite Daily
We may receive a portion of sales if you purchase a product through a link in this article.
There is nothing the Ziegler sisters can't do. One is Sia's muse; the other is a rising alt-pop star; both have authored books and launched their own makeup lines. Downtime? Never heard of her. Though they both have worked on fashion collaborations in the past, Maddie and Kenzie Ziegler's American Eagle collection has taken their skills (and their friendship) to the next level. "I feel like we're past the point of fighting sisters," Kenzie tells Elite Daily on *not* butting heads with Maddie while working on the new line. "We kind of just enjoy every moment together."
Hot off of AE's partnerships with Olivia Ponton and the cast of The Summer I Turned Pretty, the brand teamed up with the multi-hyphenate sister duo to take their talents off the stage and into the design studio. The AE + Maddie & Kenzie collab, announced and launched today, is part of the company's 2023 back-to-school collection, which puts an emphasis on all things denim. The items specific to the siblings' line were made with their personal styles in mind and are meant to be mixed and matched for ultimate versatility while capturing BTS trends and the young pair's hot takes on denim.
"Maddie would go for a more tomboy style; I'd go for more of a [stereotypical] girly style — or vice versa," 19-year-old Kenzie says. "I feel like this brand is just very versatile, so you can really wear it anywhere." Twenty-year-old Maddie echoes her younger sibling's sentiments, adding, "We just really want everyone to feel super confident when they wear our collection."
Below, the Ziegler sisters dive into their differing aesthetics, the style trends they expect to see this school year, plus what to wear to 2023's biggest concerts (hi, Taylor and Beyoncé).
This interview has been condensed and edited for clarity.
Elite Daily: Congrats on your American Eagle collab! What can shoppers expect to see from the launch?
Maddie Ziegler: I think shoppers can expect to see a fresh energy with the brand, which is so exciting because Kenzie and I have been fans for so long and it's definitely nostalgic for so many people. For us, we wanted to kind of bring a '90s feel to this collection. We were very inspired by Drew Barrymore, Kate Moss, and Cindy Crawford and a lot of those old photos.
ED: Did you each have a different role during the process, or was it collaborative?
Kenzie Ziegler: We did everything together; we love doing everything together, so we based the collection off of one piece that we really, really wanted to create. I feel like everything was super collaborative.
MZ: Kenzie and I are really good at really trusting each other. There are certain things that Kenzie looks to me for, and there are certain things that I look to Kenzie for, so it's really good that we really trust each other 100%.
ED: The collection is said to hone in on the model-off-duty aesthetic, with a cool girl vibe. How would you describe your sister's aesthetic?
KZ: I feel like Maddie is model-off-duty — that's exactly how you could describe her style. I would love to raid her closet 24/7. She's definitely a fashion icon for me.
MZ: That's so cute. I would say Kenzie, she's my little vintage queen. She has the cutest wardrobe. We have very similar wardrobes, actually. We like the same types of 'fits, but Kenzie always has such cute pieces that she finds that she thrifts. We do similar looks, but hers are more oversized; a really oversized pant and a cute crop. She always has the best jewelry, too.
ED: Since denim is the focus of the collection, let's talk about jeans trends. What are your thoughts on high-waisted jeans?
MZ: This is the debate; this is hilarious, especially when we started working with the American Eagle team. It was actually really funny because our main thing with denim was "We don't do high-waisted. We used to do that, but we don't anymore." And in some of the campaign photos for some other looks that we did that were not related to our collection, we did more of a high-waisted jean, but they were flared wide leg. They were amazing, but for our collection specifically, we were like, "They don't have to be low, low waist, but definitely not to the middle of our stomach."
KZ: I feel like we were very specific on where the jeans land on us, and we got the perfect jean, which is so nice. It's so nice that we feel so good about them that we can wear them all the time.
ED: How about the other millennial fave, skinny jeans?
MZ: I'm going to say no. No go.
KZ: When we were younger, we obviously wore skinny jeans, but I feel like it's kind of out of trend. We love comfort, and we love a pair of jeans that you can just throw on and it's not difficult to be in all day. We definitely choose comfort over cuteness.
ED: And bell bottoms?
MZ: Love that jean. I think it;s definitely very specific in terms of what that style and vibe is, but if you're committing to that look, I think it looks amazing.
ED: Since we're in the Eras era, what kind of jeans would you recommend for a Taylor Swift concert?
KZ: I feel like that's where you can commit to the bell bottoms. If you're going for that country feel, bell bottoms would be perfect.
MZ: I would agree with the bell-bottom situation.
ED: What about a Beyoncé concert?
MZ: I would say definitely a super oversized, baggy, low-rise type of jean.
ED: And for a quiet luxury moment?
MZ: There's a specific jean that we wear in one of the campaign images. It;s not from our specific collection, but they're a wide-leg jean, and they're so nice; you can really dress them up and wear a nice heel with them.
ED: With back-to-school season now in session, what overall fashion trends do you expect to see?
MZ: People are obsessed with jorts right now — that's just a thing. People obviously will never stray from doing just a nice jean with a crop top, but I think especially now it is just the lower waist, baggier fit with a smaller top. I've seen so many different people wearing really, really cute versions of a smaller top to offset the really, really big oversized jeans. And I think everyone loves their Sambas, the shoes — that's really what I expect to see people wearing.
ED: Do you think TikTok faves like Barbiecore and Tomato Girl Summer will still be in style this fall?
KZ: The Sofia Richie/Tomato Girl Summer trend is happening right now, and I'm loving it. I personally don't think I can pull it off, but I think everyone else looks so good in that type of style, so definitely.
MZ: Barbiecore is so cute. I've been loving seeing everyone go to the movie theater dressed up super girly and pink. I think it's adorable, but I feel like it'll carry on in its own way, and then trends always come and go. Even if it fades, though, I'm sure it'll somehow make its way back.
ED: Lastly, because everyone could use a little inspo, describe your ideal first-day-of-school 'fit.
KZ: I would wear a baggy jean with a baby tee and some sneakers. That's my go-to outfit at all times, so that would be perfect for school.
MZ: I would wear either our jean or I would wear our really cute cargo pant that's going to be in our collection, with our little baby quarter-length-sleeve top is really cute or even our cute little hooded tank would be so cute.
Shop AE x Maddie & Kenzie Ziegler
This article was originally published on