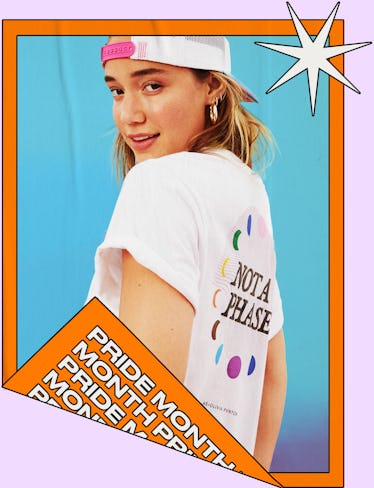 Olivia Ponton's Pride Collab With AE Is An Ode To Her Coming-Out Story
Plus, the content creator reveals why she loves talking about her sexuality on TikTok.
We may receive a portion of sales if you purchase a product through a link in this article.
Olivia Ponton has come a long way from dancing and lip-syncing onto your FYP during her Hype House era. In addition to 7.9 million TikTok followers tuning into her wanderlust-worthy travels, beauty faves, and recent Sports Illustrated photo shoot, the 21-year-old content creator isn't just modeling clothes — she's designing them now, too. Ahead of Pride Month, the social media personality worked with American Eagle to design the AE & Olivia Ponton Pride collection. In it, you'll find cheeky rainbow-themed T-shirts, playful tote bags, and colorful accessories featuring quotes that relate to Ponton's coming-out story.
"I get more smiles when I'm walking around in New York City and wearing one of my American Eagle shirts or bringing my 'Totes Gay' bag to the bagel store," Ponton tells Elite Daily. "It makes me down-to-my-heart happy." With Pride Month heralding the unofficial start of summer, she says she prioritized designing pieces that would be comfy to slip on for everything from Pride parades to parties while beating the New York heat in June.
Below, Ponton opens up about her favorite pieces in the collection (she's got six pairs of the rainbow boxers that she wears on rotation), her accidental coming-out post on social media, and her Pride plans for this year.
This interview has been edited and condensed for clarity.
Elite Daily: Why was teaming up with American Eagle for this collection important to you?
Olivia Ponton: Getting to work on this collection was one of those goals I never thought would actually happen. It's so important to me that the collection is Pride-related, and it means so much that I was able to design specific pieces with quotes that have such significance to me and my coming-out story. And then to have such an iconic brand like American Eagle behind me on this just means the world.
ED: What was the design and collaboration process like?
OP: It was all about setting a vibe. I sent multiple mood boards a day of the vibe that I wanted, and then I curated a group of quotes that I wanted to be on the shirts. I brought them a lot of designs and we kind of went from there.
ED: What are some of your favorite pieces from the collection?
OP: My personal favorite is the shirt with "Not a phase," because it was one of the most common assumptions that I heard when I came out. Still to this day, guys say that, or they're like, "You just haven't met the right one." And I think a lot of people in the community can resonate with that quote.
The Rainbow Heart line is also special because I had a keychain for three years with rainbow hearts on it like that. It was the first rainbow piece that I ever bought for myself, so I knew that it had to be in there in some way.
ED: I love that you were able to incorporate that. What are some ways you'd style the pieces in your collection this summer?
OP: I've worn the boxers every day this past week, and my favorite way to style them is wearing them with oversized shorts or pants and having them peek out a little bit. I also love sleeping in them — I have six pairs, which is amazing. And then I wear the hats with basically every outfit. I love the black hat with colorful lettering.
ED: The pieces are great for summer.
OP: Obviously Pride in New York is in June, and we're like, oh my gosh, it's going to be so hot then. We have to make sure that we have pieces that we can wear in that heat.
ED: Your collection is all about embracing your authentic self. How does that translate to being a creator and being vocal about your identity?
OP: I personally love speaking about my sexuality. It's something that a lot of people go through at some point in their life. I think people in the community are questioning or trying to figure some things out, and I like to be an open book with my story to be like, "Everything you're experiencing right now is totally normal, and everyone has to go through it." It's quite amazing to be in such an amazing community.
ED: Is it ever tough balancing what you share about your sexuality and dating life with your audience versus what you keep private?
OP: It's genuinely something I enjoy doing, which is a big part of it. If I didn't, I think it would be a little bit harder. It helps me in different aspects as well, like it's my own little miniature therapy. I'm able to talk to my friends and people who follow me about what's going on in my life, and I think that's just something that I'll always do and cherish.
ED: Has it always been like that?
OP: In the beginning, it definitely didn't feel normal to overshare a lot of my life, but as time went on, I saw it as a nice way to keep up with friends when we're not seeing each other for extended periods of time.
ED: You recently said on Skinny Confidential that your TikTok video coming out was accidental. What was the post and what was your first thought when you saw it was up?
OP: It was a funny sound that was a trend on TikTok that a lot of people in the community were using. I woke up in the morning super tired and had a moment like, "Oh my gosh, what did I do?" when I realized that I accidentally posted it. I was freaking out for like an hour or so, and then I was like, you know what? I'm actually happy that that happened because it took a lot of the stress out of it for me, and I think it was a funny and cute way to come out as well.
ED: How did your followers react?
OP: Honestly, I avoided looking at my phone that day because I didn't really want to see what people had to say about it. It's me and who I love, and I don't want to have to explain that to others. But I'm pretty sure a lot of people were just like really confused.
ED: That's definitely understandable wanting to step away for a moment.
OP: Oh definitely. I think it was really nice to be able to get to that point with myself where I was very content with my sexuality and where other people were also accepting me at such a high rate. I was super grateful to be surrounded by such amazing people while it was going on.
ED: Are there any LGBTQ+ creators you want to shout out that you love following?
OP: I love following Madison Bailey and her relationship. I think they're super cute and every time I see them, it just makes my heart so happy.
ED: We're now in Pride Month. What does it mean to you?
OP: Honestly, it's my favorite month for the entire year. Pride Month is an entire month where we are able to love whomever we want to love, and I think people in the community experience such a high rate of love as well.
Especially in New York, it can be a very hard environment to be in if you don't have tons of friends, but when you're very out and proud, especially during Pride Month, I think people are just a little bit more loving. I really appreciate living in a city that is that accepting.
ED: What are some of your favorite Pride memories?
OP: I've only done two Prides, but at last year's Pride, we went to Washington Square Park and went to the parade and got some really good food. I remember meeting so many amazing friends and new people who told me their stories about how they came out. It was such a love-filled day and just such an incredible feeling to have.
ED: Do you have any Pride Month traditions you do every year? Or want to start doing?
OP: Ooh, I really want to start having my own Pride party every year. And this year, American Eagle has a Times Square billboard for the collection, so I'm going to make all my friends go up and see it with me.
Honestly, I tell everyone that going to the Pride parade is so much fun. Even if you're not a part of the community, you can still go as an ally. Especially if you live in New York, it's not hard to go for a few hours and support the people who love you.