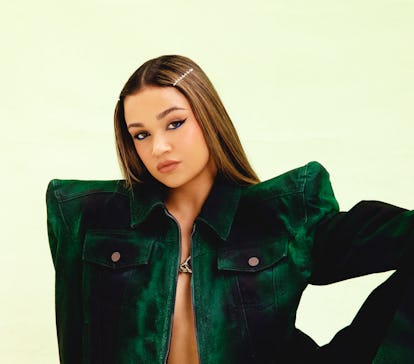 Madison Bailey Loves Love
The Outer Banks star on Season 3, her upbringing, and her relationship with Mariah Linney.
When it comes to her "couple goals," Madison Bailey doesn't hesitate. "Niecy Nash and her wife," the Outer Banks star tells me. Nash and Jessica Betts recently became the first same-sex couple to appear on the cover of Essence magazine. And the importance of these two women of color being photographed amid such a tender, intimate embrace — for all the world to see — isn't lost on Bailey, who identifies as pansexual. "They're this Black, queer love [story]. Just, like, chills."
All it takes is a cursory scroll through Bailey's TikTok account to see that the actor is a fan of love. The platform is where she'll post everything from PDA-filled dance challenges to flirty 'fit recaps with her girlfriend, former University of North Carolina at Charlotte basketball player Mariah Linney. The pair met when Bailey slid into Linney's DMs in 2020, asking her to "chat and chill." That June, they hard launched their relationship on both Instagram and TikTok. But it's not just romantic love she's captivated by. "There's so much love to go around and so much more love that needs to be in circulation," Bailey says. "Love can save someone's life. Love is so powerful. And if we use it correctly, we can spread more of it."
Bailey traces her passion for the emotion back to her upbringing. The 24-year-old was raised in Charleston, North Carolina, in a home with six siblings — five of which, like her, were adopted. "From [the day I was adopted], love was being shown to me in a different way. Just being raised by people who had no responsibility to raise me. My parents set an amazing example. I'm not going to cry," she says before taking a moment to gather herself. Bailey's mother died in 2018, and her grief is something she's been vocal about on social media ever since. ("People who have lost a parent, have y'all also been living in another dimension ever since? I stay in my own head in my own world. I'm unrecognizable atp. Not to be all… sad girl.. but I'm lowkey a sad f*ckin girl," she recently wrote on Twitter.) "My parents set such a good example for love and what it means to love people unconditionally."
While home was a place of unconditional love, Bailey — who was diagnosed with borderline personality disorder around age 17 — says her teen years were "a roller coaster." At first, music served as her refuge. But when Bailey discovered that she suffered stage fright while singing in front of others, she sought out new creative outlets. "[I took a] film and TV class. I remember the first scene I saw the class doing was [acting out] a plane crash in the middle of a room. These kids were so comfortable screaming and being passionate. Nobody was embarrassed," Bailey recalls. And though she was intimidated, she was also inspired. "I wanted to be that comfortable. I craved that comfortability."
After high school, Bailey pursued both acting and modeling — she's currently a Fenty Beauty spokesperson — and following a turn on the CW's Black Lightning playing Wendy, a teenager with the ability to control the air, in 2020 Bailey landed a spot on the show that would serve as her breakout: Netflix's Outer Banks. The series, which is set in Bailey's native North Carolina, follows a group of working-class high schoolers known as "Pogues" and their rivals, the wealthy seasonal residents dubbed "Kooks." Bailey's character Kiara, however, is of both worlds. She's the daughter of a successful restaurant owner but has a passion for environmentalism and an adventurous spirit that has earned her a spot as an honorary Pogue. The castmates themselves have also become a tribe all their own, with Bailey describing their nights out while filming as starting with espresso martinis and ending with dance parties. "Look, we party hard. Espresso martinis and then the vibes are up. Then I'll take a shot," she says.
The hit show is about to enter its third season (premiering on Feb. 23), which will see Kiara take part in a storyline fans have long been hoping would play out on their screens — embarking on a new relationship with fellow Pogue JJ. "I was extremely aware of what the fans wanted, so I wasn't really caught off-guard when I saw it in the script this year," Bailey says of things heating up between Kiara and co-star Rudy Pankow's character. "Truthfully, I always saw Kiara and JJ as very similar characters. Kind of yin and yang in a way. So I was excited to explore their chemistry this season." And while details on how that chemistry will play out throughout the season's 10-episode run are scarce, co-creator Josh Pate recently told Entertainment Weekly that it will be the "big romance of the season" and that almost an entire episode will be dedicated to it.
As excited as Bailey is for all the Kiara and JJ shippers out there, when we speak, it's clear that the love story she's most passionate about is her own. Both because of Linney's ability to "make the rest of the world fall away," as she wrote in an ode to her on Instagram, as well as the impact their relationship has had on her fans. "I've received messages from people saying that just by seeing me and my girlfriend, they were able to come out to their friends or family," she says. "For people to know that I'm someone that they can come to who is a safe place means the world. I'm very human. This industry has not made me stiff."
But with a great platform comes great responsibility. Bailey takes the fact that she's "speaking for women, people with a personality disorder or mental health struggles, queer kids, for mixed girls, [and] for adopted kids" very seriously. And at times, the pressure can weigh on her. "I'm going to make a mistake, I'm not by any means the most perfect candidate," she concedes. Yet when the going gets tough, Bailey will always choose to lead with love. "There's so much celebration and love in the queer community," says Bailey, adding, "I'm not denying that there is a journey to get there. But I think the more stories we tell of celebration, then the more young people can find comfort earlier."
Top Image Credits: Annakiki clothing, Dauphines of New York barrettes
Photographs by Juan Veloz
Styling by Dustin Connor Ellis
Hair: Graham Nation
Makeup: Kendal Fedail