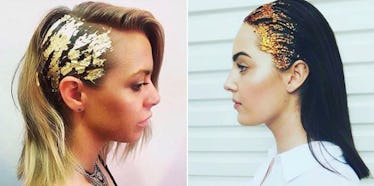 'Gold Leaf Hair' Will Make You Stand Out And Shine On New Year's Eve (Photos)
Instagram
Lately, it seems like we've been seeing a lot of sparkly looks in the style spotlight.
From glitter beards and hair to sparkly eyebrows, there are all sorts ways to glitz up your beauty routine.
But there's just one little problem with all of these festive fads.
Glitter is basically the herpes of the makeup world, so once you get in on one of these glittering looks, there's a good chance you'll be finding sparkles on everything you own for, you know, the rest of eternity.
If you're looking for a way to shine but don't want to deal with the mess that comes along with all of those twinkling trends, I have some good news for you.
You don't have to suffer from glitter FOMO any longer.
It turns out you can cover yourself in gold, sans all the sparkly specs, thanks to the latest hair craze, "Gold Leaf Hair."
Yep, covering your head in gold foil is now a thing, and it appears lots of ladies are embracing this lustrous look by loading up their locks with a layer of gold.
This new style is definitely not for the faint of heart because let's face it, coating your head in gold is a bold look that takes a lot of confidence to pull off.
But if you happen to be the type of person who's into making a strong style statement, this gilded hairstyle is the perfect way to turn heads and stand out at all your holiday parties.
Take a look at the pictures below to see this awesome new hair trend.
Forget the messy glitter.
Now there's a new way to make your hairstyle shine...
...without finding sparkles on everything you own.
Behold, "Gold Leaf Hair."
Gold Leaf Hair adds a metallic element to your mane...
...by shrouding your strands in gorgeous flakes of gold foil.
Gold Leaf Hair is like an extreme version of those golden hair tattoos...
...and this gleaming hairstyle looks hella glam.
There are all sorts of ways you can get in on this tinsel-topped hair trend.
You can cover the front of your hair in a foil façade...
...make your roots look radiant with a simple line of shine...
...show off with a golden animal pattern..
...or cover your whole damn 'do in some flashy foils.
Seriously, the gilded hair possibilities are pretty much endless.