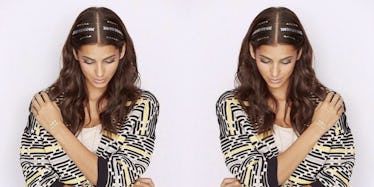 Gorgeous Hair Tattoos Will Take All Your Hairstyles To The Next Level (Photos)
It seems like new hair trends are emerging every day.
Remember when we showed you those incredible hair tapestries? Well, those stringy statement pieces aren't the only accessories people can use to seriously step up their hairstyle game.
The hair tattoo is the newest trend on the rise, and now, you can rock all sorts of stunning, sparkly designs in your strands.
Take a look at the pictures below to see this creative, new hairstyle.
If you thought tats were just for your skin, you clearly haven't seen the latest trend in hair accessories.
Hair tattoos are now real, and they're basically Flash Tats for your hair.
Kylie Jenner kicked off this hair craze by flexing her hair tat on Instagram...
...and now, all sorts of ladies are decking their hairdos out in the same designs.
Apparently, Scünci makes these stunning temporary tattoos, and you can wear them on your skin and in your hair.
There's no wrong way to get in on the hair tat action -- whether you decide to add some sparkle to your strands or rock a gilded headband.
Citations: You're Going to Want to Copy Kylie Jenner's New Tattoo ASAP (POPSUGAR)