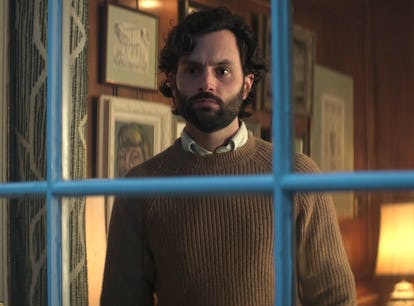 The Next Season Of You Will Be Its Last
Netflix
Joe Goldberg's reign of terror will be coming to an end very soon. And the man beneath the nondescript baseball cap thinks it's the right call. After the Season 4 finale of You put Joe in a whole new position, Penn Badgley got real about why he thinks the murderous stalker only has one more outing left in him. Badgley has made it clear he believes the show needs just one more season to wrap it all up, and sure enough, Netflix echoed that sentiment by renewing the psychological thriller for a fifth and final season.
Spoiler alert: This post contains spoilers from the You Season 4 finale. The way that the fourth season ended seemed to set up a total vibe shift for a potential fifth season. After getting away with his murderous rampage in London thanks to some help from his billionaire girlfriend Kate, Joe moved back to New York City and is no longer in hiding. With newfound riches and privilege like he's never had before, Joe has the means to pull off even more devastating acts of surveillance, kidnapping, and murder — and he also has a lot more to lose. That might've be reason enough to make the upcoming fifth season the show's last.
"It feels to me like we need to do another season. It feels to me like Joe needs to get what's coming to him, and now he has further to fall because he has all this power and wealth," Badgley told IndieWire on March 10. "To me, it feels like this is Part 1 of Joe's climax. Should there be a next season, that will be Part 2."
Badgley went on to note that You's creators are on the same wavelength as he is in terms of the final season. "I know the creators of the show always had this next season in mind as its last, should there be another one," Badgley said. "And then it will probably be a spectacular resolution because it feels to me like something is in the works by the very end of this season."
It sounds like everyone is on the same page, including Netflix. The streamer officially picked up You Season 5 just two weeks after the final episodes of Season 4 dropped, and revealed the fifth season would indeed be the show's last. Here's what to know about Joe Goldberg's last stand.
You Season 5's Predicted Release Date
You hasn't had a super steady release schedule in the past due to network changes and lockdown restrictions early on. But usually, there's about a year-and-a-half- to two-year gap between seasons. So Season 5 likely wouldn't hit Netflix until toward the end of 2024 or early 2025.
You Season 5's Predicted Cast
Obviously, Badgley will be back as Joe, and Charlotte Ritchie will almost certainly return as well as Joe's girlfriend Kate. The rest of the cast is harder to predict. Each season of You is known for introducing a whole new ensemble cast of characters, but with Season 5 being the last season, it could bring back some old favorites. Showrunner Sera Gamble has hinted at wanting to bring Jenna Ortega's Ellie back in some way, and a few other important characters from seasons past are also still alive and have unfinished business with Joe, including: John Stamos' Dr. Nicky, Saffron Burrows as Dottie Quinn, Scott Speedman as Matthew Engler, and Dylan Arnold as Theo Engler.
You Season 5's Predicted Trailer
We probably won't be seeing any footage until sometime in 2024 a few months ahead of its premiere.
This article was originally published on