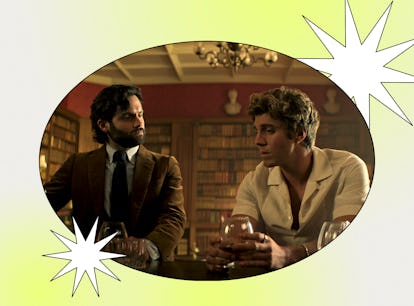 It's Never Been Trendier To Hate Billionaires
Wealth and privilege make for a perfect villain.
Netflix
Modern philosopher The Notorious B.I.G. once said, "More money, more problems," and that's taken on an entirely new meaning in 2023. TV shows and movies about the ultra-rich have become so popular that it's almost a genre of its own at this point. But gone are the days of swooning over Edward Lewis' gold-plated charms in Pretty Woman, drooling over Cher Horowitz's designer wardrobe in Clueless, and deifying the mega-wealthy in superhero movies like Iron Man and Batman. Instead, entertainment is in the era of class struggle catharsis, and billionaires are no longer the heroes; they're the villains.
Skewering the rich is nothing new, but it is having a major moment right now. Season 2 of The White Lotus allowed the scrappy locals to pull one over on the self-centered wealthy tourists, the Knives Out sequel Glass Onion exposed the talentless foolishness of its billionaire antagonist, and Season 4 of You shifted the show's tone to focus on Joe's simmering hatred of a group of hard-partying, dimwitted socialites. The Menu made the increasingly popular "eat the rich" mantra literal, Triangle of Sadness sent do-nothing influencers out to sea, and Severance didn't have to try all too hard to imagine a world where corporate bigwigs go to surgical extremes to keep their underlings in line.
Movies and shows about rich people behaving badly (and getting their comeuppance for it) have become so prevalent that Jennifer Lopez's 2023 rom-com Shotgun Wedding felt like an anachronism. We're really supposed to be rooting for this super-wealthy family that took over an entire island in the Philippines for their lavish wedding? In this economy? That's just not the vibe anymore, and it's not too difficult to understand why.
"I don't love seeing anyone be punished, but when it comes to rich people on TV, there is that sense of 'they got what they deserved' if they did something bad," Sara, 33, tells Elite Daily. "It always feels like they get exceptions made for them all the time so it feels a bit like justice."
As real-world billionaires have become increasingly seen as IRL supervillains, people look to TV for a world where justice is actually served. "Some rich people are just so far removed from reality that a little punishment seems normal," says Rosisnel, 31. "Truly nobody should get away with as many things as super rich people do."
But it's not really pure hatred; it's a more nuanced point-and-laugh release that's fueling this trend. The best projects of this sub-genre invite the have-nots to act as voyeurs of the haves, and maybe even delight in moral superiority watching their out-of-touch ridiculousness. The White Lotus fans don't actually despise ditzy billionaire Tanya McQuoid, but they do relish the social naïveté that becomes her downfall. Similarly, You's Sundry House crew is abhorrent but hilarious, and Glass Onion's Birdie Jay is too silly to really hate, even if she is the poster child of cancel culture.
Hulu's Fleishman Is in Trouble has recently inspired discussion about this societal pivot. The Cut's February "The Fleishman Effect" essay describes how upper-class women in New York City feel constant pressure to keep up with the uber-wealthy, burning themselves out in the never-ending pursuit of the unattainable. But much like Kim Kardashian's now-ubiquitous "get your f*cking ass up and work" quote from late 2022, the conversations surrounding the article center on how out of touch these wealthy people are, signaling the culture has moved on from the toxic grindset that suggests everyone can achieve what only the few have access to.
Don't expect this to slow down anytime soon. Billionaires are only getting more brazen, it seems, and criticism of them is only getting fiercer, especially with the rise of anti-capitalist humor on TikTok. And the most popular TV shows and movies have clearly taken note. So grab your napkins, because it looks like we're eating the rich all the way through 2023.