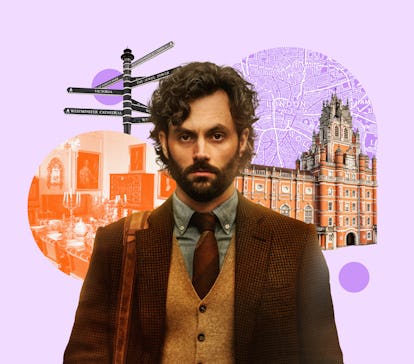 You's Season 4 Filming Locations Lean Into Dark Academia
Here's the tea on Joe's "bloody good time" across the pond.
Lindsay Hattrick/Elite Daily; Getty Images; Shutterstock
You is back for another season on Feb. 9, and it seems Joe Goldberg has jumped across the pond to play out his next murder spree. No, he's not in Paris, as the end of the third season suggests, nor the show's previous settings of New York City, Los Angeles, and Madre Linda. This time, Penn Badgely's charming and twisted character has relocated to London to start fresh — and continue chasing his latest obsession, Marienne. These You Season 4 filming locations show Joe's journey through London and beyond as he attempts to "bury the past" in his new role as Professor Jonathan Moore.
ICYMI, the You Season 4 trailer for Netflix's psychological thriller shows Joe renouncing his identities from past seasons by heading across the pond. Badgley introduces his new home by telling viewers "I've gone through a bit of refinement upon crossing the pond. And living in London has allowed me to bury the past, if you will." So, why did the show film in London instead of Paris, per the ending of You Season 3? Well, in a summer 2022 interview with Entertainment Tonight, Badgley candidly revealed, "To be real, it's cheaper." While relocating to London over Paris might have been a production decision at the end of the day, the UK city does have a dark academia aesthetic that plays into the plot of the upcoming season.
It seems that Joe's likely taken up his new lifestyle at the University of London, since Badgley was spotted in the courtyard at Royal Holloway in the university town of Egham. At first glance, it may look like Badgley's reprising his role as NYU-era Dan Humphrey from Gossip Girl, but it's just Joe in yet another disguise as he embarks on his sinister schemes. Badgley was also spotted in costume at Knebworth House in Hertfordshire, as well as on a mystery bridge in the city. TikTokers also saw him filming on the streets of London with his co-star, Charlotte Ritchie.
From Los Angeles to Paris, here are all the You filming locations we know about so far ahead of You Season 4's Feb. 9 release and the second installment's release on March 9.
You Season 4 Filming Locations
1
Los Angeles, California
Los Angeles, California, United States
Visit the website
Season 3 ended in Paris, as Joe or "Nick" set off to look for Marienne. The Paris scenes were actually filmed in Los Angeles on a set, and since Season 4 was reportedly shot in LA in 2022, it's possible that the season will open in the French city and see Joe relocate to London.