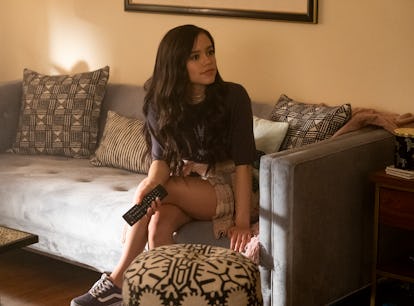 5 Theories About Ellie Returning In You
The showrunner said she has plans for Jenna Ortega's character 👀
Netflix
At this point, Jenna Ortega is a pro at surviving deadly situations, whether it's a ferocious beast stalking Nevermore Academy or Ghostface's unrelenting pursuit. But before Ortega became the ultimate scream queen, she had another monster to worry about: Joe Goldberg. As the resourceful teen Ellie Alves, Ortega's character became one of the only people in Joe's sphere to not end up murdered at the end of You Season 2. Although there were plans to bring Ellie back in Season 4, scheduling issues got in the way, but that only means the door is open for her to come back in the future. But how, you may be wondering. Well, let's go over some theories about how Ellie could return in You, and what her comeback would mean for Joe.
Upon the release of Season 4, Part 1 on Feb. 9, You showrunner Sera Gamble confirmed to IndieWire that she had planned for Ortega to reprise her role as Ellie in the fourth season, but those plans fell through due to Ortega's commitment to filming Wednesday. "We wanted to bring Ellie back and we heard, 'Oh, Jenna is doing some show,'" Gamble said. However, Gamble went on to say that Ellie could still return down the line: "We have ideas for Ellie if her schedule allows her to visit us again."
Ellie is probably the You character with the most potential to shake up Joe's life with her possible return. At the end of Season 2, Joe confessed the truth to her, admitting he killed the predatory comic Henderson and Love Quinn killed Ellie's older sister Delilah. Instead of murdering Ellie once he confessed his crimes to her, Joe let her go, encouraging her to start a new life in Florida with money he would regularly send her. In Season 3, Joe mentioned he was still sending Ellie money he made from restoring old books, but after faking his death in the season finale and starting a new life in London, it's unclear if Joe was still supporting Ellie in Season 4 or not.
With Gamble pretty much confirming there are plans to bring Ellie back, let's break down some potential scenarios for her big return.
1. Ellie confronts Joe over his missing payments.
The most logical way to reintroduce Ellie into Joe's life would be to have her track him down after he stopped sending her the money he promised. It really doesn't seem likely that Joe would continue sending Ellie payments after faking his own death — it would be way too much of a risk to his cover. The sudden financial freeze could be enough to force Ellie to track down her benefactor.
2. Ellie moves to Madre Linda to investigate Joe's death.
The world may believe Joe Goldberg is dead, but Ellie would know better. Upon hearing the news of his faked death, Ellie's natural curiosity could inspire her to travel to Madre Linda and deduce the truth. Ellie's investigation in Madre Linda would also be the perfect opportunity for her to compare notes with notable Season 3 characters, like Theo, Matthew, Sherry, and Cary, all of whom also know what Joe and Love are truly capable of.
3. Ellie adapts Beck's memoir into a movie.
Ellie also has a way she could bring Joe out of hiding without having to chase him down. Before she was forced to flee Los Angeles, Ellie was working with Forty to turn Guinevere Beck's memoir The Dark Face of Love into a movie. Since the screenplay basically lays out all of Joe's murders (after Forty managed to put the pieces together), Joe would definitely want to stop Ellie from bringing his crimes to the big screen.
4. Ellie enrolls in Joe's literature class.
If Ellie is able to track down Joe's new persona, Professor Jonathan Moore, then she will have the perfect way to get close to him again. In the time that's passed since Season 2, Ellie would likely be around the age of a college freshman during Season 4, plus, she's shown she's definitely smart enough to get a good scholarship and has a particular talent for literature. She should have no trouble landing a spot in Joe's class at Darcy College.
5. Season 5 will be set in Florida.
While Ellie traveling to London would be cute, it seems more likely that Joe will come to her just based on how You is structured. Each season of the show always takes place in a different location, so maybe Ellie's move to Florida was meant to foreshadow the setting of a future season that will finally reunite Joe and his street-smart protégé.