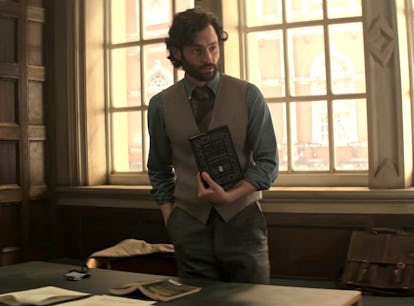 All The Literary References In You Season 4
Professor Jonathan Moore's reading list is extensive.
Netflix
Joe Goldberg finally got back to his bookish roots in You Season 4, and all it took was a drastic change of scenery. The murder-filled drama series, which itself is based on Caroline Kepnes' novels, began with tons of literary references in its first season, as bookstore employee Joe pursued fellow bibliophile Guinevere Beck. But as Joe began a new life in California, the show veered away from all things paperback and hardcover in favor of green juices and suburban baked goods. However, the London setting and Joe's new identity as a literature professor in Season 4 perfectly lent itself to bringing back the books, so unsurprisingly, You is now more packed with literary references than ever before.
In the new You season, Joe adopts the identity of Jonathan Moore, the professor of a class called American Iconoclasts of the Short Story at a fictional English university. Because of the nature of his class, many famous short stories are referenced throughout the season, all with some connection to the overall plot. Many of the literary references are spoken aloud, but there are a few scenes that clearly nod to major book moments without outright saying a title.
To really understand Joe/Jonathan's journey in London, here are the literary references that relate to his new adventure. Spoiler alert: The following list contains some spoilers from throughout You Season 4.
1. Hell Is the Absence of God by Ted Chiang
Right off the bat, Joe's first scene as Jonathan has him talking about Ted Chiang's 2001 novelette, with a primary focus on the character of Neil Fisk, who witnesses the ascent of his wife's soul to heaven and thereafter tries to turn his amoral life around so he can join her there. Clearly, Joe deeply relates to Neil, as he has become newly devoted to becoming the kind of person Marienne would want to be with.
2. The Tell-Tale Heart by Edgar Allan Poe
No need for too deep of a reading of Jonathan Moore's next reading assignment. The Tell-Tale Heart, the story of a man driven mad with guilt over his recent murder of his housemate, is clearly something of a wink to Joe's own self-destructive tendencies in the wake of his many murders.
3. It Had to Be Murder by Cornell Woolrich
Throughout the season, Joe keeps tabs on his neighbor Kate by looking out his window, which conveniently enough offers him the perfect view into her apartment. The window-watching surveillance seems to be inspired by the iconic Alfred Hitchcock movie Rear Window, which itself was adapted from Cornell Woolrich's short story about a bedridden man who becomes obsessed with the lives of his neighbors as seen through his window.
4. The Man of the Crowd by Edgar Allan Poe
Joe's connection to Poe's works is very evident. For his class, he assigned the short story The Man of the Crowd, about a people-watching man in a café who suddenly becomes obsessed with a passerby and proceeds to follow him all over London. Obviously, the stalker-y nature of the protagonist echoes Joe's favorite pastime, and even more literally, the story directly mirrors You's Season 3 finale, in which Joe stood outside a café before stalking the streets of Paris in search of Marienne.
5. Agatha Christie
Aside from Poe, Agatha Christie is the author who gets the most shoutouts in Season 4. Although Joe hates whodunnit murder mysteries, he resolved to learn all about that once he realized he was entangled in one IRL. His student Nadia, a Christie superfan, informed Joe of all the tropes that make Christie's novels so exciting, which later came in handy as Joe narrowed down his list of suspects.
6. The Most Dangerous Game by Richard Connell
It's never mentioned by name, but Roald hunting Joe down in the woods in Episode 5 clearly recalled one of the most well-known short stories ever written: The Most Dangerous Game. The story of sadistic aristocrats hunting fellow humans rather than animals also gets at the central theme of Season 4, which is all about bloodshed over the class divide.
7. My Early Life by Winston Churchill
Joe gifts Kate's father, Tom, a rare first edition of Winston Churchill's 1930 autobiography, which Tom proceeds to callously ruin by writing instructions on how to kill Rhys on one of the pages. The book exemplified how Joe thought Tom probably viewed himself: as a daunting, strategic warlord. But when Tom rejected the book, it sent a signal that he couldn't be so easily read.
8. Strange Case of Dr Jekyll and Mr Hyde by Robert Louis Stevenson
Without a doubt, the piece of literature that's really at the heart of Season 4's theme is Dr Jekyll and Mr Hyde, the 1886 novella about a respected doctor who periodically transforms himself into an evil, violent criminal to indulge in his vices. The book appears in Joe's apartment, and is where the key to the building he's trapped Marienne in has been hiding. The whole second half of You Season 4 is basically Joe's own Dr Jekyll and Mr Hyde battle, as he realizes he's created the bloodthirsty alter-ego of Rhys in his mind as a way to explain away all his murderous behavior.
9. Bullet in the Brain by Tobias Wolff
Joe references Wolff's 1995 short story in Season 4's finale, ominously highlighting how it's a work where the reader knows the protagonist will die from the start. The reference points to Joe's near-death in the middle of the episode, but it also goes deeper than that, given Joe's very obvious similarities to Bullet in the Brain's main character, Anders. Like Joe, Anders is obsessed with books, and his pretentious holier-than-thou attitude is what winds up being his undoing.
10. Charles Dickens, Sherlock Holmes, and William Makepeace Thackeray
Though they predominantly didn't appear in You, Netflix shared a photo of a stack of books ahead of Season 4's release, which also hinted at the new season's direction.
Dickens' Oliver Twist, Great Expectations, and Bleak House not only confirmed the London setting for the season, but also hinted class struggle would be at the heart of the drama. Of course, The Adventures of Sherlock Holmes forecast the new season would take on a murder mystery tone. Thackeray's novel Vanity Fair was included to allude to the fact that Season 4 would focus on a circle of famous, wealthy, upper-class friends.
But of course, the most important book of all isn't even a real one: A Good Man in a Cruel World is written by the new Season 4 character Rhys Montrose. It's easy to see why Joe was so attracted to a book with that title, as it resonates exactly with how he sees himself: a victim of circumstance rather than an actual bad person. As Joe clings to this fantasy that he's a good man in a cruel world, his psyche breaks and creates an imaginary Rhys whom Joe can blame for his murderous outbursts that simply don't fit into his "reformed" persona.
This article was originally published on