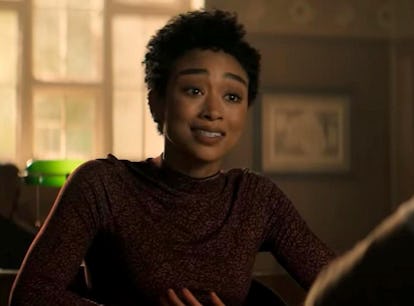 Tati Gabrielle Revealed An Interesting You Theory About Marienne
Could this predict what happens in Season 4?
Netflix
There's one thing that all You fans have in common with Joe Goldberg: everyone is wondering about Marienne after that Season 3 finale. The librarian became Joe's new obsession in the thriller's third season, but she's a big question mark as the show prepares to enter Season 4. As fans go over all the possibilities, Tati Gabrielle revealed her You Season 3 theory about Marienne, and it just might be the perfect teaser for where Season 4 could go.
Spoiler alert: This post contains spoilers from the You Season 3 finale. Despite the incredibly high murder rate that comes with becoming involved with Joe Goldberg, Marienne managed to be one of the few lucky women to survive his toxically overprotective schemes — for now, at least. Although she totally fell for Joe and planned to run away with him, once Marienne learned the truth about his murderous tendencies from Love in the finale, she took her daughter Juliet and escaped Madre Linda without him.
After murdering Love, faking his own demise, and making it all look like Love's unhinged murder-suicide, Joe set out to try to find his missing "soulmate." Since Marienne mentioned her dream of starting a life in Paris, that's where Joe began his search, but it's unclear if Marienne is really there or not. However, Tati Gabrielle has a theory about where her character could be, and also how she'd react to seeing Joe again in Season 4. The actor revealed all her thoughts about where Marienne ended up in an interview with Marie Claire.
Most importantly, Gabrielle confirmed that she, like most of the fanbase, believes Marienne did indeed run off to Paris. "I think she's in France — like what she talks to Joe about in the library," Gabrielle said. "I would just want her to find the peace she's been seeking; be able to do art and let her kid have the most free and lovely life. I feel like she would be an art teacher or a commissioned artist."
But despite Gabrielle's hopes for Marienne finding peace in her Parisian fantasy, she also said she hopes to see her character take Joe down in Season 4. Though she believes Marienne still has feelings for Joe, she thinks the aspiring artist would be totally against getting back together with him if they reunited. "I do very secretly want her, if she does come back, to be the one to foil Joe," Gabrielle said. "I don't think she would go back [to him]. I think she would be able to, at that point, have the confidence, respect of self, and foresight to be able to know [not to]. I feel she'd be like, 'I love you. I wish this worked out differently. But, you are a psychopath and you are not good for me or my child or even this world.'"
So, could Season 4 be another case of Joe versus an obsession-turned-nemesis, in the vein of his rivalry with Love in Season 3? It seems Gabrielle thinks that's a possibility. Not only did she theorize Marienne would reject Joe and potentially take him down, but she also said she believes Marienne would have totally seen through his whole stunt: "I don't know that Marienne would even know what happened after she left [town] ... But if she had [head about Love's murder-suicide story], I do feel like she would have suspected it was Joe. Because Marienne is wise to most things."
Fans will have to wait and see what happens in You Season 4, which is expected to drop in late 2022 or 2023.