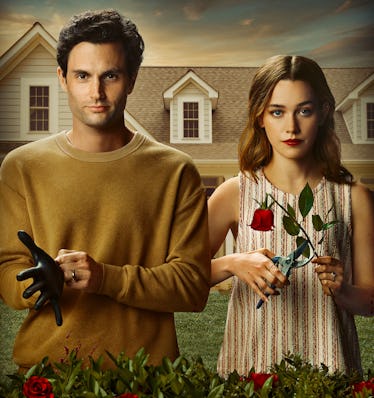 Joe's New Alias Is A Sexy Professor In You Season 4's First Look
Class will be in session at the start of 2023.
Netflix
Few shows are as scary, seductive, and downright sinister as Netflix's You. The thrilling series starring Penn Badgley follows a manipulative murderer who's looking for love in all the wrong places, and each season continues to get more gripping than the last. And it turns out, that pattern will continue. Just days ahead of Season 3's release on Oct. 15, Netflix renewed You for Season 4. Here's everything we know about it so far, including speculation on the season's release date, cast, and trailer.
First of all, it's not super common for Netflix to announce the next season of a show before its current season premieres. More often, the streamer reveals whether a show will continue about a month after it releases its most recent season, presumably so execs can analyze its success and popularity. This is You we're talking about, though. The series is a bona fide hit, so much so that renewing it for another season was an extremely safe bet, even before Netflix had viewership data on its current season.
On Oct. 13, Netflix made its confidence in You public by releasing a surprise YouTube video announcing You Season 4. The vid shows creepy flashback clips featuring Joe uttering the words "for you" over and over until the words "You 4" flash on the screen. The video's caption confirms it: "You Season 4 is in the [body] bag."
Spoiler alert: You Season 3 spoilers follow. Once the long-awaited third season hit Netflix on Oct. 15, it definitely did not disappoint. Season 3 showcased Joe (Badgley) and his wife, Love (Victoria Pedretti), settling down in the suburbs with their newborn son, Henry. Joe, who pretty much immediately fell out of love with Love after realizing she was also a murderer, was trying to make his marriage work, but the fact that he kept obsessing over other women made things a little tricky.
While all Season 3 gave viewers a lot to process — like the fact that Love really did murder her first husband and Joe might have murdered more people when he was a child — it was the last episode that really set the stage for a fourth season. After Joe told Love he wanted a divorce, the couple had an altercation that left Joe temporarily paralyzed. At that point, it looked like Love was finally going to off her murderous hubby, but in a Joe-like twist, he managed to escape. It turns out, Joe knew what Love was planning and managed to murder her instead. After dropping his son off at the doorstep of his friends, Joe made Love's murder look like a murder-suicide by cutting off his own toe and baking it into a pie — thus staging his own murder and framing it all on Love — before fleeing the country.
The final scene of Season 3 showed Joe in Paris, which means if another installment comes to fruition, Joe's murderous ways will be going international. Here's everything we know about You Season 4 and what Joe's story might look like in the city of lights:
You Season 4 Release Date
The show confirmed it wasn't taking things slow following Season 3 on March 22 by confirming Season 4 had officially begun production.
Netflix finally revealed Season 4's release date during the streamer's Tudum event on Sept. 24. For the first time ever, You's new season will be split into two parts, but don't worry — there isn't a long wait time between Parts 1 and 2. Season 4 Part 1 will drop just in time for Valentine's Day on Feb. 10, with Part 2 arriving a month later on March 10.
You Season 4 Predicted Cast
Since multiple main characters were murdered in Season 3, the only character who will (probably) 100% return for Season 4 will be Badgley as Joe. That said, there could always be flashbacks of Pedretti as Love and perhaps Joe would manage to find his current obsession, Marienne (Tati Gabrielle), in France. Better yet, maybe Netflix will merge two shows and Joe would bump into Lily Collins' Emily while traveling Paris. That's one crossover I would pay good money to see...
On Thursday, Feb. 17, Netflix announced the first new addition to You Season 4. Lukas Gage will play Adam, a wealthy party boy who's infamous for never meeting the expectations of his high-profile family. Adam's character description, as reported by Deadline, reveals that he's incredibly charming on the surface, but is hiding huge secrets by manipulating everyone around him. Something tells me Joe Goldberg is going to be pretty suspicious of this guy.
Gage is best known for playing resort employee Dillon on The White Lotus and Tyler on Season 1 of Euphoria. At the end of 2020, he went viral after sharing a video of a director insulting his apartment following a Zoom audition.
The casting announcement every You fan was waiting for finally arrived on March 25, with Deadline confirming English actor Charlotte Ritchie will play the character who sounds like she will be Joe's new obsession. Ritchie's character Kate is described as a smart, independent art gallerist who is fiercely loyal to her friends and tends to be suspicious of anyone outside of her inner circle. Of course, that means she's not going to be hitting it off with Joe right away, but it certainly seems like she will be at the center of whatever new drama unfolds in Season 4.
You Season 4 Trailer
Netflix dropped a first look at Season 4 alongside the release date announcement on Sept. 24. The teaser introduces the new cast of characters, as well as Joe's new alias: a professor named Jonathan Moore. The video also confirmed his Season 3 love interest Marienne will indeed be back.
Get ready for Joe's rampage to take on a whole new continent when the first part of You Season 4 drops on Feb. 10.
This article was originally published on