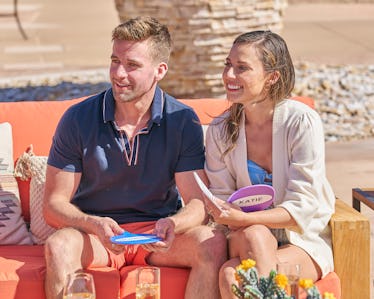 Looks Like Connor Follows His Bachelorette "Men Tell All" Mystery Kisser On IG
Is this a spoiler about his time on Bachelor in Paradise?!
ABC/Craig Sjodin
Season 17 of The Bachelorette was full of twists and turns, but oddly enough, one of the most unexpected moments happened during the July 26 special and not the actual competition. After his heartbreaking exit from the show, Connor "The Cat" Brennan managed to lay a smooch on an audience member during the cast reunion special, and fans are all kinds of confused. So uh, who kissed Connor B. on "Men Tell All"? Her name is Tara and yup, it seems like there could be more to their story...
ICYMI, Connor, who was eliminated during Week 6, actually had a pretty great stint on the show. After stepping out of the limo in a cat costume on Night 1 (because the lead, Katie Thurston loves cats, not because it's his usual style), the couple shared their first kiss of the season, which marked the start of their iffy physical chemistry that fans endured throughout his time on the season.
One thing viewers noticed over and over was how *intensely* Connor kissed Katie. No, he didn't keep his eyes open like former Bachelor Matt James, but it was still a lot — so much so, that Katie cited their lack of physical chemistry as basically her sole reason for sending him home.
Fast-forward to Connor's hot seat interview on the "Men Tell All." After reliving his cute but sometimes cringey time on the show, he told hosts Tayshia Adams and Kaitlyn Bristowe that he was afraid he was a bad kisser after his experience with Katie. He was so concerned, in fact, he even asked some exes to share their feedback on his kissing style.
According to Connor, his exes said he wasn't bad; it was just the lack of connection that threw him and Katie off. However, in order to get to the bottom of the "is Connor a good kisser" mystery, a woman from the studio audience got up and volunteered to make out with him. After sharing a very intimate kiss, she said that on a scale from 1-10, Connor's kissing was an 11. But where did she come from, and how well does she actually know Connor?
According to sleuths on Twitter, the mystery woman is Tara Kelly, a musician from California. Some believe she was planted by producers to make this moment with Connor happen, and honestly? That checks out. Not only was she already mic'ed up when she "randomly" interrupted Connor's hot seat interview, but also, let's not forget we are still living in COVID times, people! There's no way she'd have been able to plant one on a cast member without some very thorough vetting beforehand. Add in the fact that she's apparently releasing new music the day following her "Men Tell All" performance, and it smells like a setup to me.
That's not to say Tara and Connor didn't form a genuine connection, though! After all, they did share two big kisses onscreen (and he asked her for her number). Plus — perhaps even more tellingly — the two follow each other on Instagram and have interacted with each other's accounts publicly as recently as July 21. That's not much to go on, but it is possible the two actually got to know each other after the "MTA" special. Who knows — maybe they're even together now. Talk about a meet-cute!
And before you say "but Connor goes to Paradise, so he can't have had anything happen with Tara," it's very likely the "Men Tell All" special filmed after Connor's time on Paradise concluded. This means Connor may have left BIP without a relationship — unless he did partner up with someone on the beach and that kiss onstage was just a way to throw everyone off? With the Bachelor franchise, anything can happen.
Season 17 of The Bachelorette airs Mondays at 8 p.m. ET on ABC.