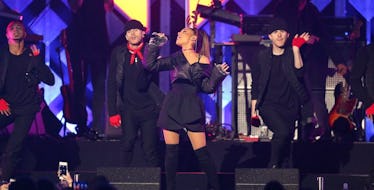 Where Is Ariana Grande After The Explosion At Her Concert? Fans Are Worried
Catrina Maxwell/Getty Images for iHeart
On Monday night, terrifying reports came — from news outlets and Twitter alike — that there was an explosion at an Ariana Grande concert in Manchester, England. Though details are still emerging, the Greater Manchester Police confirmed that 19 people are dead following an explosion outside Manchester Arena, and another 50 are injured. With so much tragedy, fans are extremely worried about whether Ariana Grande is OK.
UPDATE: Manchester police revealed Tuesday morning that at least 22 people are dead and about 60 injured after a lone bomber detonated an improvised explosive device outside an Ariana Grande concert in Manchester, England. The attacker is deceased and police believe he acted alone. According to CNN, authorities are investigating whether the attacker was part of a broader terror network.
Here's how you can help victims of the attack, which is the deadliest Britain has seen since the 2005 London bombing.
Grande was not injured at the concert and tweeted after the event: "broken. from the bottom of my heart, i am so so sorry. i don't have words."
EARLIER: Though the singer has not yet made a public statement about the incident, her representative confirmed to E! News that Grande is safe and said, "Ariana is okay. We are further investigating what happened." TMZ reported that Grande is "in hysterics" following the incident, according to unnamed sources.  Elite Daily reached out to Grande's representative for further comment and has not yet received a response.
Late Monday night, Grande tweeted the following message about the incident:
Earlier: The only information Grande has chosen to release at this time is that she is OK, and in such a terrifying time, her privacy should be respected. On social media, many fans and fellow celebrities seemed to agree, simply sharing messages of love for the singer and all of those affected by the horrific act that took place on Monday night.
Though Grande has not made any statements about the upcoming dates of her The Dangerous Woman tour, fans are already urging each other not to worry about cancellations, because these tragic events clearly take precedence. But late Monday evening, Grande's manager announced that the tour was suspended for the time being.
Unfortunately, in addition to the many people confirmed to be dead or injured, other concertgoers are missing in the wake of the explosion. That's why there are even more tweets sharing photos of the missing in an effort to locate them and notify their families as to whether they're OK.
While we wait for more details to emerge, and for Grande to give any updates that she is comfortable with, one thing remains clear: the events at Grande's concert were horrific and have affected countless people.