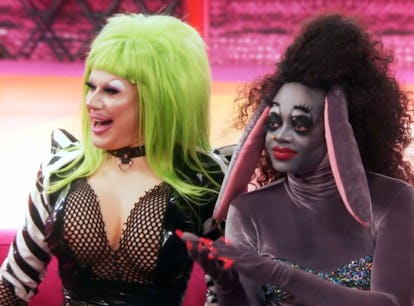 Jimbo Has A Target On Her Back In The First Look At All Stars 8's Snatch Game
It's the challenge we've all been waiting for!
Paramount+
It's finally time for everyone's favorite Drag Race challenge once again. That's right — Snatch Game is back, but the All Stars 8 queens are not on equal footing as they head into the show's most iconic challenge. As the season's frontrunner has clearly emerged, all eyes are on Jimbo to see if she'll entered the hallowed ground of becoming a two-time Snatch Game winner... or flop under the pressure. Get your sneak peek at the drama in the Episode 5 first-look clip.
Fresh off her second win by slaying yet another acting challenge, Jimbo is the queen to beat heading into Snatch Game, and everyone knows it. After everyone gathered around to count the lipstick votes — which marked the first unanimous group vote of the season — LaLa Ri called out the fact that Jimbo now has more challenge wins than anyone else. And that's not necessarily good for her game, as Alexis Michelle portended in an ominous confessional.
"Jimbo is the first girl to win twice now, and I'm sure she's feeling on top of the world," Alexis says in the clip. "But, here's the problem: In this game, you don't want to be seen as the frontrunner. Then you're a threat to everybody. Some girls might be taking notice, and I would not be surprised if they're starting to think about sending her home as soon as she lands in the bottom."
But that bottom placement doesn't seem too likely this week, since Snatch Game is a challenge Jimbo excels at. She previously won the celebrity impersonation gauntlet on Season 1 of Canada's Drag Race. The only other All Stars 8 contestant who's won Snatch Game before is Alexis Michelle. While there are no other previous winners, there's also nobody who really flopped their Snatch Game on this season. Heidi N Closet, Jessica Wild, and Kandy Muse were all safe last time they did it, and this will be the first time Jaymes Mansfield, Kahanna Montrese, and LaLa Ri ever get to do Snatch Game.
Like past All Stars seasons, RuPaul announced this will be a Snatch Game of Love, meaning the queens will be split into groups to show off their celebrity impressions in front of two special guests, who will likely be the episode's guest judges, comedians Bowen Yang and Matt Rogers. Get your first look below.
RuPaul's Drag Race All Stars 8 will be available to stream Friday, June 2 on Paramount+.