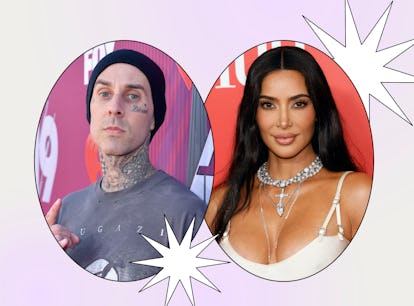 Um, Travis Barker Finally Spoke About His Past Attraction To Kim
Fans believe this is the true lore behind Kim & Kourtney's feud.
Kim and Kourtney Kardashian have had their fair share of arguments on-screen. However, their latest beef might be the most chaotic fight yet. The sisters' feud (which can be seen in the last two seasons of their Hulu series) began with accusations of the two were copying each other. Now, fans are speculating that Travis Barker is to blame for their tension, as his old quotes about finding Kim attractive have gone viral. Yikes.
So, let's discuss this theory. In his 2016 memoir Can I Say, the Blink-182 drummer revealed he met Kim while dating Paris Hilton in 2006. (IYDK, the SKIMs founder was working as a stylist for Hilton at the time). It's interesting to note that Barker reportedly met his now-wife, Kourtney, through Kim that same year. However, it wasn't until over a decade later in January 2021 that the two became official.
In his book, Barker reportedly wrote he was "secretly checking Kim out" and thought she was "f*cking hot." "You might think I would be doing the worst things with [Kim] because of her tapes, but it was the exact opposite of any other encounter I've had with a woman," Barker wrote, adding he frequently went out to lunch and dinner with her. "With Kim, I wanted to be nothing but a gentleman to her. It was so weird."
In October 2015, nearly one year before his memoir released, Barker also gushed about Kim to Us Weekly. "How could you not stare at Kim? Mind you, I enjoyed hanging out with Paris, but I love curvy girls," he said at the time. "Kim was eye candy. I was no way disrespectful to Paris, but I couldn't keep my eyes off Kim!"
It wasn't long until Barker's old confessions began circulating on social media, especially with all eyes on Kourtney's pregnancy after her scare in September. Many people now believe his former crush on Kim could have been the catalyst behind the sisters' recent fight; however, Barker isn't a fan of the theory. In a Oct. 29 interview with the Los Angeles Times, he cleared up the "ridiculous" rumor that he's involved in the siblings' strained relationship.
"You give people a little information and they think they've solved the mystery of 'this is why they're fighting.' It's just so ridiculous," the Blink-182 drummer said, adding that Kourtney doesn't harbor any ill will over his past comments.
Barker continued, stating his wife's fans worry that "he's a womanizer." This alleged concern might stem from Shanna Moakler, his ex-wife, and her revelation that she divorced Barker after catching him in an affair with Kim. Travis nor Kim addressed Moakler's allegations, but his recent comment seems to allude nothing happened between the two.
"Stop it," he said of the womanizer comment. "I obviously shared all that stuff because I wanted to move past it. It was therapeutic for me. That's [Kourtney's] sister. She knows we used to talk. Nothing bad was going on."
This allegedly nonexistent love triangle really gives "keeping up with the Kardashians" a new meaning.