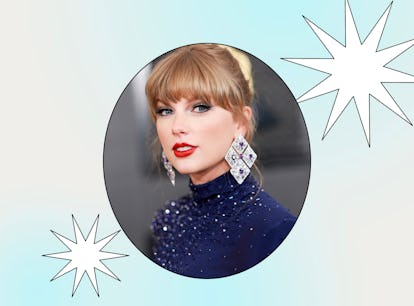 OMG! Taylor Is Dropping 4 Unreleased Songs At Midnight
Swifties, it's time for coffee.
MATT WINKELMEYER/GETTY IMAGES
Swifties, it's time to meet Taylor Swift at midnight — again. Eh, who needs sleep when "new" music from her is on the horizon? On March 16, the pop singer revealed on Instagram she'll drop four unreleased songs at midnight (of course) to celebrate her Eras Tour. This upcoming release is much-welcomed tour news for Swifties amid the ongoing Ticketmaster fiasco. Her fans went through the ringer with those ticket glitches; however, her "new" music might possibly make up for that.
"In celebration of The Eras Tour I'm releasing 4 previously unreleased songs tonight at midnight," Swift wrote on her Instagram Story alongside three photos of her different album eras. She then revealed the name of the four tracks: "Eyes Open (Taylor's Version)," "Safe & Sound featuring Joy Williams and John Paul White (Taylor's Version)," "If This Was A Movie (Taylor's Version)," and "All Of The Girls You Loved Before." Clearly, there's no such thing as a re-recording drought for Swift.
Swift's Eras Tour will kick off on March 17 in Glendale, Arizona— aka, Swift City. IYDK, the city's mayor Jerry Weiers announced they will temporarily switch their name to the Swift moniker to honor her two shows there. OK, talk about influence. It's not yet clear if the Midnights singer will perform these three re-released and one never-before-heard tracks on her tour, but it wouldn't hurt to know about their sonic history. Here's what to know about Swift's unreleased tracks.
"Eyes Open" And "Safe & Sound"
Both "Eyes Open" and "Safe & Sound" are hits Swift contributed to The Hunger Games: Songs From District 12 And Beyond soundtrack in 2012. Sonically, "Eyes Open" — an upbeat number about realizing how imperfect the world is — embodies a pop-rock edge that was prominent in the early 2010s.
While cooing lyrics about outgrowing child-like naivety and the dark realities of society, the track rides a looped drum beat. The song's real highlight lies in those subtle electric guitars, which gleam in numerous solos in the chorus and bridge. It'll be interesting to hear how Swift will modernize this release, especially since none of her newer material embraces this alternative sound.
As for "Safe & Sound," Swift collaborated with Joy Williams and John Paul White (formerly known as folk-country duo Civil Wars) on the original release. The group split in 2014, so it appears Williams and White re-recorded their parts separately as solo acts. Compared to her aforementioned Hunger Games track, "Safe & Sound" feels reminiscent of her 2020 Folklore album.
"If This Was a Movie (Taylor's Version)"
"If This Was A Movie" hails from the deluxe version of Swift's 2010 album, Speak Now. To many fans, this was a rather specific song to choose for a re-recording, and it only fuels theories that Speak Now will be her next re-recorded hit.
"All of the Girls You Loved Before"
"All of the Girls You Loved Before" is an unreleased gem from Swift's Lover era. According to Deadline, a snippet of the song was leaked on TikTok in February. The sound eventually went viral on the platform, with many Swifties wondering why its hooky chorus was rejected from the album. Her fans were onto something with that response, because the track sounds like a pop hit in the making.
With the news of these releases, Swift's Eras Tour just got even more exciting.