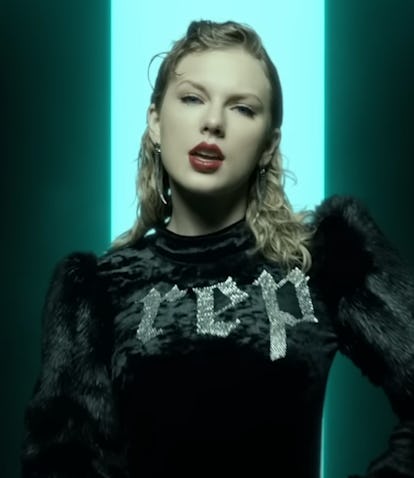 Taylor's Most Misunderstood Single Is Finally Having Its Moment
This song has a big reputation.
YouTube
Every Swiftie remembers where they were on Aug. 24, 2017. Mere hours before that midnight, Taylor Swift announced she was releasing her comeback single, which would kick off her darkest, most unexpected era ever: Reputation. After a year away from the spotlight when it seemed like pretty much everyone was against her, Swift didn't return as the victim, but as the vengeance-obsessed snake that she had been painted as. On "Look What You Made Me Do," she finally showed her fangs, and spat her most venomous lyrics right at her enemies' faces.
But it was far from a flawless comeback at the time. Sure, the world stopped when the electropop diss track dropped, but many people simply weren't ready for Swift's dark evolution. Several music critics slammed the song upon its release, describing it as "remedial," "artless," and "the worst music of her career."
The song even managed to divide longtime Swift fans. While some Swifties were immediately on board with Swift's revenge era, others were disappointed by Swift's new sound and attitude, clinging to the bubblegum pop and lyrical ballad days of yore.
But now, "Look What You Made Me Do" is finally getting the respect it's always deserved. Six years after it caused a commotion, the Reputation single is the indisputable highlight of the 2023 concert doc Taylor Swift: The Eras Tour. And nobody's divided on that.
Arriving in the middle of the nearly three-hour movie, "Look What You Made Me Do" is the climax of the concert's Reputation section. After Swift stomps onto stage next to a gigantic CGI snake, she turns her "Don't Blame Me" outro into a twisted, hissing mashup with "LWYMMD," a seamless transition that's become iconic among concertgoers. (One popular fan video of the moment has 1.5 million likes on TikTok.)
With its placement and performance, "Look What You Made Me Do" stands out as the Eras Tour's de facto thesis statement. All of Swift's backup dancers dress in outfits reminiscent of Swift's old looks, as Swift serpentines around them bellowing for revenge. The staging is a callback to the "LWYMMD" music video, which saw Swift arguing with past versions of herself. Looking back, the video was really the first spark of the entire Eras Tour.
Perhaps Swift was simply too embroiled in controversy for everyone to give "Look What You Made Me Do" its fair shake back in 2017. She was fresh off of Kanye West reviving his age-old feud with her, public fatigue surrounding her "girl squad," and a ton of critiques over her political silence during the 2016 election. It was a time when being on Swift's side was not popular, and everyone was looking for cracks when she finally made her musical reappearance.
Swift could have safely resurfaced with her usual fare, dropping a 1989-style pop earworm guaranteed to take over radios, but instead she flipped the script. She traded her usual melodious singing for a more direct type of talk-singing, and as the pre-chorus built up to a climax over syncopated snares, Swift pulled the rug out by dropping into an almost robotic chant, with industrial synths whirring frenetically behind her.
Yes, it was still pure, finely-honed pop, but a far cry from the more immediately palatable standards on 1989. Swift was challenging her fans to grow with her, all while also solidifying the concept of eras in her discography. It may have taken half a decade, a world-dominating tour, and a record-breaking movie, but it seems like everyone has finally caught up.