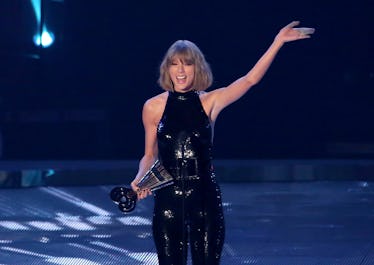 The Oscars Snubbed Taylor (Again) & Twitter Is Not Happy
Just wait til she makes her feature film...
David Buchan/Variety/Penske Media via Getty Images
There are a few things one can set their watch by in Hollywood. Marvel movies will make money, Lupita Nyong'o will absolutely slay the red carpet, and the top brass who vote on the major awards nominations will ignore Taylor Swift. Like superhero films, Swift's mainstream popularity seemingly works against her when it comes to the Academy Awards voters; the 2023 Oscar nominations snubbed her once again. The memes and tweets that followed clearly indicate her fans were not pleased.
Swift's song on the Academy Awards shortlist was "Carolina," for the 2022 murder mystery film Where The Crawdads Sing. The film didn't get much in the way of critical accolades or awards love, with only the People's Choice Awards nominating it for something other than Swift's featured tune. However, "Carolina" has been nominated by several other Hollywood awards, including the Golden Globes, Grammys, and the Critics' Choice Awards.
Despite her lengthy list of awards, Swift has never landed an Oscar nomination, let alone a win. Fans hoped that the Critics' Choice nomination might be a sign she would finally crack that final barrier with "Carolina," but it was not to be, and Swifties were very much not OK with it.
This is not Swift's first time making the Oscars shortlist for an Academy Award nomination; she's had chances previously, with 2013's "Safe & Sound," 2014's "Sweeter Than Fiction" and 2020's "Beautiful Ghosts," but none of those made it far enough it actually get a nom. Though those songs were nominated for other awards, she's never actually gotted a nod for Best Original Song thus far in her career.
Part of the disappointment stems from Swift having multiple projects in contention this year, including a submission for Best Director and Best Supporting Actress for "All Too Well: The Short Film" (which didn't even make the shortlist for nominations). Fans assumed "All Too Well" failing to make a dent would at least result in "Carolina" getting some love, but no.
Perhaps Swift will finally land that someday Oscar nomination with her first feature-length film, which is currently in pre-production over at Searchlight Pictures. Fans live in hope.
The 95th Academy Awards ceremony airs live on Sunday, March 12, at 8 p.m. ET on ABC.