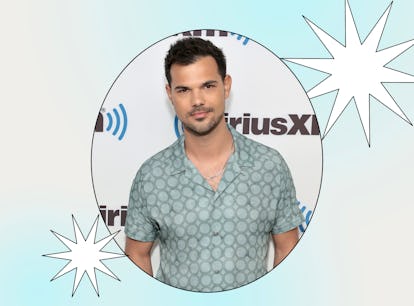 We've All Been Pronouncing Taylor Lautner's Name Wrong
He's the latest star to join the 'fumbled last name' club.
Jamie McCarthy/Getty Images Entertainment/Getty Images
There's no denying that Taylor Lautner has a noticeable name. And no, not because he's been romantically involved with women who also share his first name. The actor is a memorable face in Twilight, the apple-clad franchise that had teenagers fawning over crystallized vampires and attractive werewolves. While fans were privy to his wolf moniker, it seems that can't be said for Lautner's real name. Recently, the actor revealed that fans have been mispronouncing his last name for *decades.* Well, locas— this is embarrassing.
On July 5, Lautner and his wife (hilariously, also named Taylor Lautner) appeared on The Unplanned Podcast With Matt & Abby. After the couple shared they use pet names to calm the confusion behind having the same alias, host Abby asked about the pronunciation of his last name.
"It is technically 'Lowt-ner,'" he said. "It's my fault nobody knows how it's actually pronounced because I never corrected anybody for decades. I just never — in interviews or anything — stopped somebody and said, 'It's not 'Laut-ner.' It's 'Lowt-ner.'"
The last name mishap surprised the hosts, especially Matt. He then asked if Lautner hesitated to speak up about the decades-long mispronunciation since he began acting at a young age. "Yeah, I think when I was 11, after [starring] in Sharkboy And Lavagirl, I wasn't going to tell people they were pronouncing my name wrong," he lightheartedly said.
Similar to Matt's expression, several users in the comments section were shocked in the delivery of Lautner's last name. One person wrote, "The way my jaw dropped," while another teasingly realized their whole life has been a lie, saying: "I'm 23 and just finding this out, I'm baffled." Many users revealed they've been accurately pronouncing his name, and seemed confused that others were saying it differently.
This isn't the first time Lautner has added emphasis to his last name. In February 2022, the actor spoke with E! News about the Gen Z-coded argument that stylistically, side parts aren't the move, and that he has a soft spot for middle parts. While introducing himself, he pronounced 'Laut' so that it rhymed with 'out.' Clearly, this moment fell under the radar.
Now, with his recent appearance on The Unplanned Podcast, it seems the pronunciation of his last name will stick with fans.