Where Have You Been, Loca?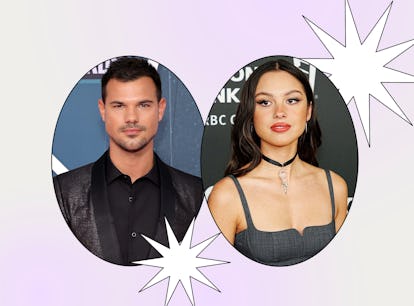 Taylor Lautner's Reaction To Olivia's "Vampire" Proves He's Team Jacob
This is for the Twihards.
Jeff Kravitz/Getty Images Entertainment/Getty Images/Jeff Kravitz/FilmMagic, Inc/Getty Images
Olivia Rodrigo seems to be in her Twilight era. After a two year hiatus, the singer teased her new sonic era with her upcoming single "Vampire." She also revealed the track's cover art, which sees her channeling her inner Bella Swan. Think forbidden bite, but make it fierce. This comeback announcement excited fans, as they've been anxiously piecing together clues from her social media that she might drop new music this summer. This includes Taylor Lautner, who showed that he's still Jacob Black at heart.
On June 13, Rodrigo shared the cover art for "Vampire" on Instagram. Clad in a black-and-white filter, the singer hinted at being bitten by posing with two lilac (her signature Sour color) band-aids on her neck. "My new song vampire is out june 30th! you can presave now. so excited for this ahhhhh!!!!!!!" Rodrigo wrote, alongside a few heart and blood drop emojis.
In the comments section, many fans pointed out how Twilight-coded this upcoming release was. Of course, the 2009 film isn't the only fang-bearing love story to exist; however, it cradles a campy-nostalgic factor that will always make it iconic. Incredibly toxic, but still iconic. The fans' observation isn't too far-fetched, as Rodrigo's been a longtime stan of the movie. Specifically, she's Team Edward.
Though on the opposing team, that didn't stop Lautner — who plays Jacob, Edward's werewolf nemesis — from stepping into protective mode in the comments. He wrote: "K WHO TF BIT YOU." By the bite in his lighthearted comment, he *might* just have some garlic nearby.
Rodrigo hasn't responded to Lautner's anti-Edward comment; however, that doesn't take away from how exciting her sonic homecoming is. "Vampire" is the singer's first taste of music since the release of her 2021 album, Sour. The angsty effort opened many thrilling doors for Rodrigo, and crowned her as an heir to the 'Sad Girl Pop' throne alongside other up-and-coming artists at the time.
According to a press release, "Vampire" flaunts a "sound of an artist firmly in control, imbued with a sense of maturity and a bold confidence." Rodrigo also wrote the forthcoming track with producer Daniel Nigro, whom she worked with on Sour. Her new era's announcement follows several hints that Rodrigo had new material in the works. On May 20, the singer celebrated the two-year anniversary of Sour with a handwritten note and new merch.
Many fans noticed the "Drivers License" merch included an expiration date of June 30, and hinted Rodrigo might begin a new era on that date. Then, a week later, Rodrigo posted a mirror selfie that showed that date highlighted on a calendar in the background. Clearly, fans picked up on these subtle winks and were accurate in their theories.