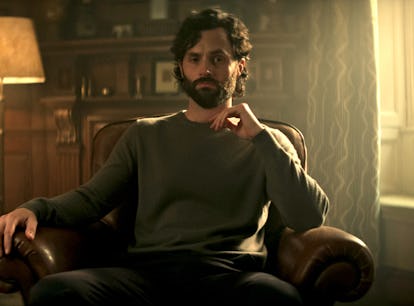 Cardi B Finally Got Her Moment With Joe In You Season 4
It was a long time coming.
Netflix
Toward the end of the first episode of You Season 4, there's a very unexpected needle drop. Turns out, Joe Goldberg's go-to music to blast while dismembering corpses is none other than Cardi B. The song choice definitely stands out among the show's soundtrack, and there's a reason for that. In case you aren't familiar, here's the story behind Cardi B's "I Like It" appearing in You Season 4.
Spoiler alert: This post contains spoilers from the Season 4 premiere of You. Joe's efforts to turn over a new leaf in London obviously only lasted for a a fleeting moment. After starting his new job as a literature professor, Joe awoke in his apartment to find fellow professor Malcolm stabbed to death on his table. Naturally, Joe sprung to action and dismembered the body to dispose of it, but his music choice for the carnage had a deeper meaning than just shock value. As Cardi B's "I Like It" played over Joe's bloody, fans were reminded of Cardi's Twitter exchange with Penn Badgley.
In case you forgot, there was actually a lot of talk about Cardi potentially appearing in You Season 4 after Season 3 dropped at the end of 2021. At that time, Cardi fangirled hard over Badgley, and the feeling was mutual. The rapper reposted an old interview in which Badgley admitted he admired her authentic use of social media, revealing she's a huge You fans: "OOOOMMFFFGGGGGG HE KNOWS ME !!!" she wrote. Badgley coyly responded on his own Twitter account, and the unexpected BFF-dom was formed. They even changed their profile pics to photos of one another for a while.
The online friendship quickly led to tons of chatter about how Cardi could show up in the next season of You. The rapper pitched her own idea about running into Joe at Paris Fashion Week, and Netflix even reached out to her with some Joe Goldberg-approved merch.
Sadly, an actual Cardi B cameo didn't come to fruition in Part 1 of You Season 4, but the decision to use her hit song in the first new episode since her back-and-forth with Badgley was definitely a fun nod to one of the show's most famous superfans.