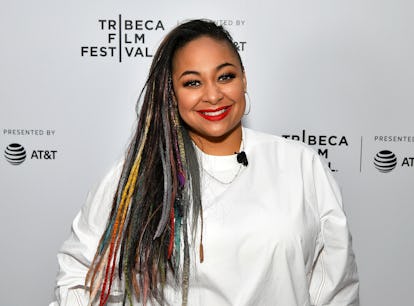 Sooo, Raven-Symoné Can *Actually* Gaze Into The Future IRL
"I believe in psychics, puns f*king intended."
Slaven Vlasic/Getty Images Entertainment/Getty Images
That's So Raven will always be influential. The Disney series — which follows Raven Baxter, a psychic teenager with a penchant for fashion — is so chaotic that it's hilarious. The one-liner jokes (ahem, Chelsea's "Do you carry a lunch box?!") and Baxter's unpredictable visions have aged gracefully over the years, so much so that fans will randomly gush about the show on social media. However, it appears Baxter's vision stare left an impression on more than just viewers. Recently, Raven-Symoné claims she always had psychic senses similar to her iconic character.
On July 24, Symoné talked about her supernatural tendencies in an episode of Best Podcast Ever with Raven and Miranda. "I believe in psychics," she told her cohost and wife Miranda Pearman-Maday. She then alluded to her Disney character, saying: "Puns f*cking intended."
The actor revealed she believes that most humans, including herself, unknowingly have a "psychic plane." "I believe humans have the ability in their brain to tap into energy fields that allow for truth to connect when you know how to translate it correctly," she said. "I can walk into a room and read the room. [That's] reading energy, and energy is in the psychic plane, because it's not on a physical, material plane."
Symoné continued, sharing she began channeling her psychic abilities before her role on That's So Raven. Hm, and to think Baxter was supposed to be a fictional character. The actor then gave insight to what her real-life gazes into the future look like, and it sounds similar to that of Baxter's. In the series, which premiered from 2003 to 2007, her character would suddenly become still and give a blank stare to the camera. There, she'll have a hazy vision of a scenario that's bound to happen in the future, and she'll spend most of the episode trying to avoid (or embrace) the upcoming situation.
"I do have moments where I really will just stare and I will see a scene that is happening to me or that is going to happen to me in another dimension, and I'm like, 'Yo, this is weird,'" she said about her real life visions. "There will be a time when I'm walking and I'll trip over nothing, but I will feel in my body that I have been running."
With moments like that, it makes sense why she returned to Disney's 2017 revival of the series, Raven's Home. The reboot, which is now on its sixth season, sees Baxter still catching glimpses into the future. However, this time, she's not alone. She passed on her psychic abilities to her son Booker, who confessed his power to her in the show's second season.
With Symoné closely relating to Baxter, it makes you wonder if she has an unexpected connection to any other side characters she transformed into throughout the series.