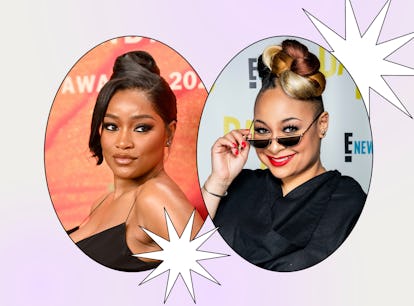 Raven-Symoné Just Called Keke Palmer The Next Oprah
Can someone *please* give these two a movie?
Noam Galai/Getty Images Entertainment/Getty Images/E! Entertainment/NBCUniversal/Getty Images
There are many celebrities in the Disney Channel and Nickelodeon Hall of Fame. And recently, two notable legends from both networks, Raven-Symoné and Keke Palmer, reunited to talk about their early acting days. You know, just two multi-hyphenated talents reflecting on their work that's now cemented in pop culture history— no biggie. On July 12, Symoné appeared on Palmer's podcast (aptly named Baby, This Is Keke Palmer), and gave the new mom her well-deserved flowers.
Toward the end of the episode, the two stars played a round of Questions That Need To Be Answered. In the segment, Palmer asked Symoné and her wife Miranda Pearman-Maday about their relationship, her decision to return to Disney for Raven's Home in 2017, and more. As Palmer searched for a new question, Symoné sweetly interjected to praise her work ethic.
"Keke, I just want to give you your flowers. You are a boss a*s girl. I'm so proud of you," she began, to which Palmer blushed. "I remember you on your show for Disney Channel and they were like, 'We got Keke Palmer,' and I was like, 'Ooo, we got another Black girl on the network!' And you blew the f*ck up."
For those that don't know, True Jackson VP wasn't Palmer's first network show. In August 2020, the Nope actor revealed she filmed a pilot for her own Disney Channel series titled Keke and Jamal. The series, which also starred Vanessa Hudgens and Andre Kinney, was based on her life as an aspiring actor; however, it was shelved after the first episode. According to Palmer, the axed pilot was filmed on an old set for That's So Raven, and that's how she first met Symoné.
On the podcast, Symoné continued praising Palmer. She shared that at one point, they both auditioned for the same role on a rebooted BET series. While they didn't reveal the name, it's believed to be a talk show called Teen Summit. Palmer won the role, and Symoné shared she was proud of her at the time.
"When you got [the role], I was like: 'Immediately yes. She deserves it. I know why she got it and I'm not mad at it.' Everything you do, I am so proud of you at every single moment," she said, before calling Palmer the next Oprah. What a compliment.
To end the conversation, Palmer proved why her nickname is 'Keke 'Keep A Job' Palmer.' She slickly asked Symoné if she could appear on Raven's Home latest season, before hinting they should star in their own movie. Unsurprisingly, Symoné said she was down for the opportunity. "On some real sh*t, we should talk about [making that movie happen] outside the podcast."