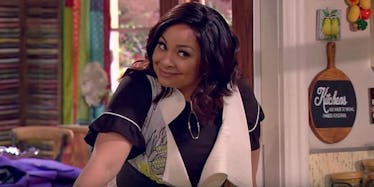 The 'That's So Raven' Revival Theme Song Will Bring You Back To Your Childhood -- VIDEO
Disney/YouTube
Oh, snap! Get ready to be excited, Disney kids. We officially have a theme song for the highly anticipated That's So Raven revival, Raven's Home, airing on Disney Channel in just a few weeks.
Tell me this clip doesn't have you excited AF. I'm already having visions (pun intended) of what this series will look like.
Though the song doesn't follow the original show's melody or lyrics (which we all still know word for word), the opening title sequence will bring you right back to your childhood the second you see Raven Symoné in her old psychic character's shoes standing alongside her BFF, the always ditzy, always entertaining Chelsea.
One really noticeable difference in this new theme song comes at the end, where we were once trained to hear Raven's ever so iconic, "Yep, that's me!" Instead, this time, we get a much more inclusive, "Yup, that's us!"
Raven's Home is the second spinoff of the original series (after Cory In The House), and this time around we'll get to see Chelsea and Raven as two divorced moms raising their kids under the same roof as one another.
Naturally, there has to be a twist, so things get interesting when Raven discovers that one of her children, Booker, has inherited her ability to have psychic visions. And, let's be real, if Booker gets himself into even half as many sticky situations as his mother did 10 years ago, we're absolutely in for the revival of a lifetime.
So far, there are six episodes of the show scheduled to air between July 21 and August 25, and there is no telling what kind of high jinx we're in store for. While a whole new generation will be enjoying Raven's kookiness for the first time, we will no doubt be revisiting one of the funniest characters of our childhoods.
Now, the real question is whether or not we'll get some cameos a la Girl Meets World. I wanna know what Victor has been up to, and I definitely hope we get to see some of Uncle Cory.