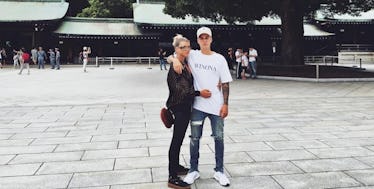 Sofia Richie Is Wearing Her Love For Justin Bieber On Her Sleeve -- Literally
Instagram
I think in my ideal world, I would live in a chic city apartment with Hermione Granger, Mila Kunis, Serena van der Woodsen and Sofia Richie.
Sadly, I don't.
But luckily, I do live with friends who share my interests in Justin Bieber's interest because, in this day and age, it's really not important for 23-year-old women to think about anything other than what Justin Bieber thinks about! (#ImWithHer)
His current point of interest? My teenage non-roommate who is cooler than I'll ever be, Sofia Richie.
Last night, while stalking Instagram and utilizing the new ~zoom~ feature, we found something interesting on Sofia's account: Our girl is straight-up wearing JB's heart on her sleeve (in the form of tour merch).
We couldn't even get mad at her or her flawlessly clear skin because she clearly has every piece of authentic Purpose Tour merchandise while we're stuck surfing the Forever 21 website deciding whether or not it's pathetic to buy a tank top with Justin's face on it for $17.90.
(Spoiler: We decided it wasn't pathetic.)
Rumors about the 18-year-old model and Justin dating surfaced in mid-August when she joined him in Japan, which sparked the third installment of the Jelena World War.
The Biebs and The Rich (that works, right?) also went on a tropical getaway to celebrate her becoming a legal slam piece 18th birthday. V sweet.
So, while no one is questioning the legitimacy of their current undefined relationship, Sofia is still making sure everyone knows her man has his own merch, and she's wearing his name as much as possible.
If you're ever looking to tell the world you've got a new hookup buddy who happens to have a clothing line, follow Sofia's lead and post Instagrams like these.
Exhibit A: The "I Swear I'm Super Comfortable Sitting Like This, These Pants Are Just So Cozy" Post
Exhibit B: The "I Have Never Worn These Sneakers Outside, Also, Have You Seen My Grey Purpose Tour Sweatpants?" Post
Exhibit C: The "Dear Diary, I Think If I Literally Wear His Face Then Selena Gomez Will Take The Hint, Right?" Post
Exhibit D: The "I'm Not Going To Actually Show The Purpose Logo, But How Many Pairs Of Grey Sweatpants Do People Think I Have? LOL" Post
I support this relationship and am going to start wearing clothing with my crushes' faces on it under all my clothes.
Sofia, if you're ever looking for a place to stay in Murray Hill, I've got you covered.