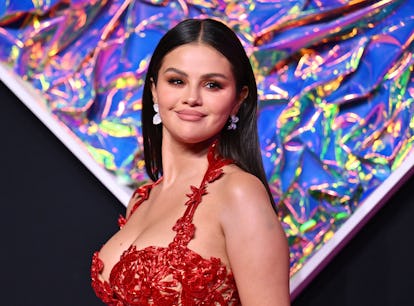 Selena Gomez Addressed Those Rumors She's Feuding With Dua Lipa
One accidental IG click led to so much drama.
Selena Gomez is no stranger to a social media detox. The singer, whose currently the most-followed woman on the platform, has taken multiple breaks from her ever-growing account in the past. She also had a notable unfollowing spree in 2018 when she unfollowed more than 200 people on Instagram, leaving everyone a bit stunned. Recently, that drama returned once fans noticed Gomez unfollowed Dua Lipa earlier this summer. While the move surprised fans, it seems there's no bad blood between the two.
In an Oct. 3 interview with Fast Company, Gomez denied having any drama with the Future Nostalgia singer. "It was an accident!" she said about the unfollowing. "I was just cleaning up some of my Instagram. Then somebody called me and was like, 'What happened with Dua?!'"
Once Gomez became aware of the unfollowing, she didn't publicly address it. Instead, she killed those feud rumors with some fashionista kindness. According to the outlet, the Only Murders in the Building actor wore a dress from Versace and Dua's La Vacanza collection to a Rare Beauty event that summer. For an extra touch, she also shared some love to the butterfly-inspired line on Instagram.
"A little Versace/Dua moment 🦋," Gomez wrote on the June 29 post, posed in the dress and accompanying luggage. It seems Dua was unbothered by the unfollowing mishap, as she reportedly called Gomez an "angel" with a series of heart-eye emojis under the photo.
Elsewhere in the interview, Gomez reflected on her complicated relationship with social media. When asked if "everyone would be better living offline," the Rare singer's response was wisely neutral. "All I would say is, every choice you make is yours. At the end of the day, you have to be proud of it," she said. "If it ends up being a mistake, it's your mistake to learn from. Does it make you feel good? Does it not? Evaluate and get to know yourself as much as you can."
Gomez has definitely taken this wisdom to heart, as she's been vocal about prioritizing her mental health over keeping up with social media all the time. In a November 2022 interview with Bustle, the singer revealed that while she has a soft spot for TikTok and Instagram, she mainly uses her phone to keep in contact with her family. With that direction, she'd average less than five hours of screen time on her phone a day.
While her relationship with social media might still be a bit shaky, it's sweet to know that hasn't shaken up her friendship with Dua.