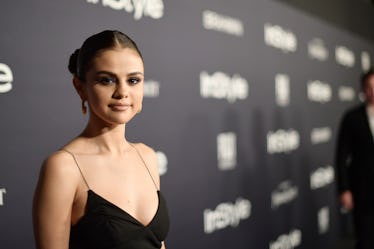 Selena Gomez Unfollowed Demi Lovato & 200 More People On IG & We're So Confused
Matt Winkelmeyer/Getty Images Entertainment/Getty Images
A social media detox is necessary every now and then, but crossing off a good 200-plus followers? That's just suspicious. Fans are beginning to wonder, "Who did Selena Gomez unfollow on Instagram?" and the list is certainly lengthy, so brace yourself — especially if you're concerned about Gomez's happily-ever-after with Demi Lovato.
The 25-year-old pop star has adjusted her page in quite a few ways. For one, her profile picture is now a photo of her mother, Mandy Teefey. Her bio reads, "By grace through faith. Also Will and Grace is life." But perhaps what's most noticeable is the fact that she's only following a mere 37 accounts. No, that's not a typo — 37.
The singer unfollowed a total of 279 friends, according to Cosmopolitan, and not many buddies had the opportunity to make the cut. Gomez is now mainly following fashion brands and fan pages. Somehow, she still has shots with ex The Weeknd on her page, though she's reunited with Justin Bieber. Hmm. This is certainly a bizarre turn of events.
If you're wondering who's lucky enough to be on this list, here's a glimpse:
Taylor Swift, the star's long-time BFF who might've gotten in between Gomez's relationship with Lovato
Amy Schumer, not many can part ways with the comedian
Francia Raísa, Gomez's BFF and kidney donor
Now, for those who have gotten the axe:
Demi Lovato (our hearts!)
Gigi Hadid
Gomez's New Year's Eve Cabo buddies
What are you doing to us, Sel?
Everyone is super concerned given the rocky history between Gomez and Lovato. Their friendship seemed to be on the mend, though. When Lovato released her documentary, Simply Complicated, Gomez took to social media to show her support. She said on Instagram,
This was beautiful. I'm so happy for you. You always continue to [be] bold and real. I wish more people were like you."
She also added, "Love you." Lovato was touched by the kind words, according to her reply. She said,
"@selenagomez thank you so much, this means the world to me and more. Love you too."
The two reunited at the InStyle awards, so fans assumed everything was peachy keen in the land of Disney BFFs. Now, this recent social media cleanse has everyone chomping at the bit. What does it all mean?
If you're nervous about the relationship between Gomez and Lovato, take a deep breath.
Although there is no indication as to why Gomez removed so many accounts from her "following" list on Instagram, the two still communicate. She might've taken things down a notch, but she did comment on Lovato's super-sexy bathing suit shot with, "Fire," according to Cosmopolitan. Ah, they are communicating. No need to completely panic just yet, folks.
Another reason to keep calm? This might not be Gomez's doing at all.
Cosmo also states that Gomez reportedly doesn't have the password for her account, so perhaps this is a move her reps decided. Who knows? If you think selfies and dogstagrams are overwhelming, Gomez is certainly feeling the pressure, too. With her 132 million followers, Gomez acknowledges in an interview with Elle how intense it can be. According to the interview, she said,
Look, I love what I do, and I'm aware of how lucky I am, but — how can I say this without sounding weird? I just really can't wait for people to forget about me.
Socializing can be hard, and digitally can be even more so when you stop to think about it. There's no telling why Gomez (or her brand) made the moves that she did, so let's not panic just yet.