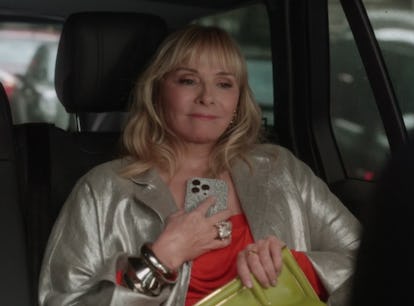 SATC Fans Are Living For Samantha's Short But Fabulous AJLT Scene
The queen has finally returned!
The moment every Sex and the City fan had been waiting months for has finally arrived. At the beginning of the And Just Like That Season 2 finale, Samantha Jones made her long-awaited return to the SATC universe. Although her cameo was short, it delivered the exact blunt and brazen energy that Samantha fans had been craving ever since AJLT began.
The minute-and-a-half scene worked on a meta level, as Samantha called Carrie to tell her that she would not be coming to her apartment farewell party. Apparently, she was planning on surprising her distant friend by showing up, but couldn't make the trip work due to flight delays. The And Just Like That pilot explained that Samantha had relocated to London after Carrie stopped using her as a publicist — but of course, real fans know that the actual reason Kim Cattrall turned down the sequel series was her public feud with Sarah Jessica Parker. So this small moment with Samantha and Carrie is something fans didn't think would ever happen, which just adds to the enjoyment even more.
The scene even included a throwback joke for superfans, as Samantha puts on a British accent and tells Carrie that she's Annabelle Bronstein, the alter-ego she invented back in Season 6 to get into an exclusive social club. Showrunner Michael Patrick King also revealed that Cattrall improvised Samantha's final moment, in which she kisses her phone after ending the call with Carrie. "Then the phone call's over and something amazing happens after they say goodbye," King said on the And Just Like That… The Writers Room podcast, "which is Samantha kisses the phone ... Not in the script. It's just totally a moment of an actor playing the moment and it's really nice."
These little moments make Samantha's return incredibly special for fans.
After the episode aired on Aug. 24, social media exploded with Samantha stans celebrating the icon's comeback... even if it was a very brief one.
Although And Just Like That has been renewed for Season 3, this will mark Samantha's one and only appearance on the series. Cattrall told Today back in June that she will retire the character following the Season 2 cameo. "This is as far as I'm going to go," she confirmed.