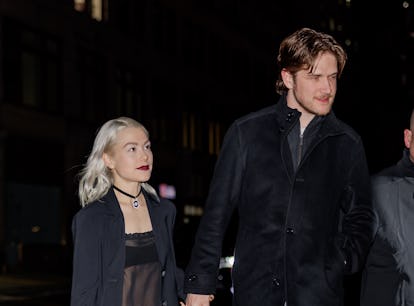 Phoebe Bridgers & Bo Burnham Held Hands On A Rare Date Night
The rumored couple stopped keeping things low-key.
THE HAPA BLONDE/GC Images/Getty Images
For nearly a year, Phoebe Bridgers and Bo Burnham have kept their rumored relationship out of the spotlight, but they changed things up after Bridgers' big night on Saturday Night Live. The singer was the musical guest on SNL's Nov. 11 episode along with her band Boygenius, and she had some extra support with Burnham in attendance. The two were spotted holding hands as they headed to the afterparty together.
This outing is one of the few times Bridgers and Burnham have publicly stepped out together ever since dating rumors between the two first arose back in December 2022. The rumored couple has yet to comment on the relationship, but ever since they were caught making out at a Taylor Swift concert over the summer, it definitely seems like they're more than just close friends.
While Bridgers and Burnham have shared a few cute moments with the public, the full timeline of their rumored relationship does get kind of messy. From sudden breakups to leaked makeout sessions, here's how Bridgers and Burnham's private 'ship became a social media fascination, one small clue at a time.
November - December 2022: Phoebe & Paul Mescal Reportedly Broke Up
It's not entirely clear when things ended between Bridgers and her boyfriend of two years, Paul Mescal, but the belief is they split sometime in late November or early December. The main proof being Bridgers' SZA collab "Ghost in the Machine," in which she details an emotional breakup in a hotel lobby. The song released on Dec. 9, and Bridgers revealed she wrote the lyrics just days earlier.
Mescal later alluded to the breakup, referring to the second half of 2022 as "an intense time personally."
Dec. 12, 2022: Phoebe & Bo Posed For A Pic
Shortly after the Mescal breakup rumors, Bridgers starting hanging out with Burnham. On Dec. 12, The 1975 frontman Matty Healy posted a photo of Bridgers kissing him, with Burnham's arms wrapped around them both.
Dec. 19, 2022: Phoebe Attended Bo's Comedy Show
Days after that IG photo, Bridgers was spotted attending the comedy show KATE in New York City, which Burnham directed. Per Jezebel's firsthand report, Burnham had to cancel the show that night due to technical difficulties, and after he made the announcement, he left the stage to join Bridgers in the audience.
Jan. 13, 2023: They Were Spotted At An Airport
The dating rumors really started taking off at the start of 2023, when the two were spotted boarding a flight together at Los Angeles Airport.
May 15, 2023: They Made Out At A Concert
Call it an accidental hard-launch. Over the summer, Bridgers and Burnham were caught kissing at Taylor Swift's Eras Tour concert in Philadelphia, where Bridgers served as an opener. They clearly never intended for the lip-lock to be seen, but unfortunately for them, it went viral because a celebrity accidentally shared it.
In the background of Keith Urban's TikTok from the concert, fans could clearly see Bridgers and Burnham kissing as Urban and his wife Nicole Kidman danced to "Style."
Urban apologized to Bridgers a month later. "Phoebe, I'm so sorry," he told Entertainment Tonight on June 11. "It felt very awkward. I felt bad. I was just digging on the concert! You never know what's gonna happen."
Bridgers poked fun at the leaked clip when she dressed in drag for her June 26 Boygenius concert, revealing her drag alter-ego's name was Queef Urban.
June 5, 2023: They Dressed Up At A Renaissance Fair
Everyone knows Bridgers loves a good costume, and she got Burnham in on the dress-up fun as well over the summer. A fan revealed on TikTok that she spotted the two at a local renaissance fair. Bridgers was decked out as a medieval princess, with Burnham as her loyal knight.
August 6, 2023: Phoebe Appeared To Soft-Launch Bo On IG
The rumored couple had been keeping their relationship off the grid, but Bridgers seemed to post her first pic of Burnham in early August. She shared a snap of herself sitting on a piano bench with her arm around the man next to her. Though the man's face was obscured, it definitely looked like Burnham.
November 12, 2023: They Held Hands In Photos
Bridgers and Burnham surprised fans by being the most public they'd ever been with their relationship after her SNL show. They held hands while walking to the SNL afterparty together, a location that's pretty infamously packed with paparazzi photographing celeb couples.