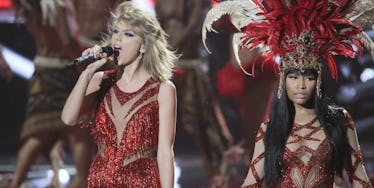 Everything You Need To Know To Watch And Live-Stream The 2016 MTV VMAs
REX/Shutterstock
YOU GUYSSSSSS, IT'S ALMOST TIME FOR THE VMAS!
The 2016 MTV Video Music Awards is set to air live on Sunday, August 28, at Madison Square Garden in New York City.
If you've been following the celebrity drama this summer, you know this awards show is gonna be cray.
Kanye West and Taylor Swift  might be in the same room for the first time since Kim K leaked their phone call about "Famous," so that's enough of a reason to watch.
Everyone from Beyoncé to Drake to Calvin Harris will (most likely) be there, too, so shit's gonna be insane.
If you're planning on watching MTV's hottest awards show (WTF ELSE ARE YOU DOING ON A SUNDAY NIGHT?!), we're here to hook you up with all the info you need.
For starters, red carpet coverage will begin promptly at 6:15 pm ET on MTV's channel and last for about two hours and 45 minutes before the main show starts.
There will be a pre-show at 8 pm ET, so be sure to keep your eye out for that.
The VMAs show will start at 9:00 pm ET and will be followed by a post-show at 11:30 pm ET.
Yeah, it's gonna be a long night. YOU GOT ALL THAT? Good.
If your TV breaks or you don't have cable, have no fear, we've got you covered.
Elite Daily will be at the red carpet to provide you with a Facebook live-stream of what goes down.
On top of that, DirecTV users can stream the show online from start to finish. #Bless.
Viewers can also check out VMA.MTV.com and the MTV app (iOS, Android, AppleTV, Roku, Xbox) to watch the entire pre-show and main show with red carpet behind-the-scenes footage.
The post-show will also be streamed live on MTV's Facebook.
SO NO EXCUSES. YOU HAVE TO WATCH THE VMAS THIS SUNDAY OR ELSE.
Rihanna, Kanye West, Beyoncé, Calvin Harris and Justin Bieber are up for some big awards, so it'll be a night you won't want to miss. Here's the list of this year's VMA nominees, just in case you need a refresher.
OH, AND BRITNEY SPEARS IS PERFORMING. Dreams really do come true.
The 2016 VMAs will definitely be the most dramatic awards show yet, so grab your popcorn and mark your calendar.
Be sure to follow Elite Daily on Facebook, Twitter and Snapchat (EliteDailySnap) for all things VMAs.