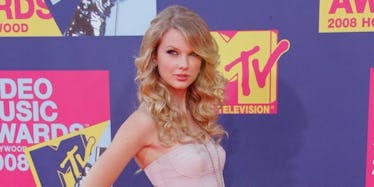 Taylor Swift Looked Like A Completely Different Person At The 2008 VMAs
REX/Shutterstock
Ah, 2008 Taylor Swift.
The hair was longer, the accent was thicker and the times were simpler — at least until the VMAs rolled around that September.
As the 2016 MTV Video Music Awards approach, it's hard not to think back to that iconic ceremony from eight years ago.
To everyone's surprise that year, Taylor, an 18-year-old country singer at her very first VMAs, snagged the Best Female Video award for her song "You Belong With Me" over Beyoncé's iconic "Single Ladies."
And, of course, no one was more surprised or upset than Kanye West.
Whether you think he made her famous or not, Taylor's life changed forever after Kanye interrupted her speech that night.
Now, I'm not trying to say Kanye totally changed Taylor's look with that (in)famous interruption, I'm just saying... LOOK HOW MUCH SHE HAS CHANGED SINCE THEN!
Here is Taylor at her very first VMAs in 2008.
2008 VMAs Taylor had swoopy bangs so you could never completely see her left eye.
Taylor, what were you hiding under there?!
For reference, here is Taylor and both her eyes at the 2013 VMAs.
And here she is at the 2014 VMAs.
As you can see, back in 2008, Tay hadn't quite discovered the red lipstick look.
Also, can you imagine 2008 Taylor wearing this on the red carpet?
No, '08 Tay was all about that accordion skirt flair.
RIP, 2008 Taylor. RIP.
Here's to hoping she brings back those boots for this year's award show!