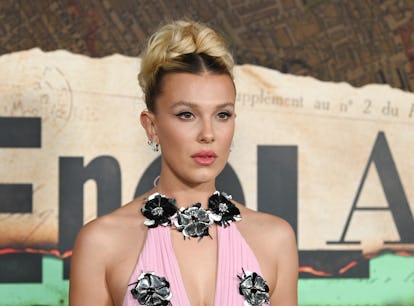 Millie Bobby Brown Is Excited For Stranger Things To End
She's so ready to say bye to Eleven.
Sorry, Hawkins, Millie Bobby Brown is ready to move on. The fictional Strangers Things town is home to many villains and iconic heroes (yes, that includes the fallen ones), such as Brown's character Eleven. Her supernatural persona has become a fan favorite since the series' premiere in 2016, and with its upcoming fifth and final season on the horizon, many viewers aren't ready to bid Eleven and those gnarly nosebleeds farewell. However, Brown certainly is.
In an Oct. 16 interview with Glamour, the actor spoke about why she's ready to retire her character. "When you're ready, you're like, 'All right, let's do this. Let's tackle this last senior year. Let's get out of here,'" Brown said about the Netflix series' forthcoming season. "Stranger Things takes up a lot of time to film and it's preventing me from creating stories that I'm passionate about. So I'm ready to say, 'Thank you, and goodbye.'"
This isn't the first time Brown has expressed her excitement to "graduate" from Eleven. In August, the Florence by Mills owner told Women's Wear Daily that she's ready to "blossom and flourish" in other works. "[Stranger Things has] been such a huge factor in part of my life, but it's like graduating high school. You're grateful for the time you've had, but it's time to create your own message and live your own life," she said at the time.
With such an incredibly honest answer to that question, it's clear Brown's taken her group's motto, "friends don't lie," to heart. The actor's response also speaks to the show's reputation of delays, and how those unexpected production stalls have elongated her time as Eleven.
Stranger Things first dealt with delays in Season 3, which was originally slated to release sometime in 2018. The season didn't premiere until June 2019, as the series' creators Matt Duffer and Ross Duffer (credited collectively as the Duffer Brothers) revealed the special effects in those episodes needed "a little more time" to perfect.
For the series' upcoming season, the Duffer Brothers halted production in May due to the ongoing SAG-AFTRA writers strike. On Sept. 27, nearly three days after the strike reached a deal, the series' official X (formerly known as Twitter) account confirmed that production was back on.
Though Brown has spent six years as Eleven, she told Glamour the role has given her "the tools and resources to be a better actor" and that its eventual ending won't stop her friendships with her co-stars. As for her future endeavors, the actor has already penciled in a post-apocalyptic film at Netflix called The Electric State. Under the direction of the Russo Brothers, the minds behind several Marvel movies, this upcoming release sees Brown back in her science fiction bag alongside Chris Pratt.
"To be able to go toe-to-toe with Chris Pratt! It's a very exciting opportunity that I never thought I'd be able to have," Brown told Glamour. "To be able to be treated the same as him and to be looked at and respected the same as him on the set by the production, by the studio." We love to see it.
While it appears Eleven's amped to retire those telekinetic powers, fans will still have Stranger Things' final season to marvel over her skills.