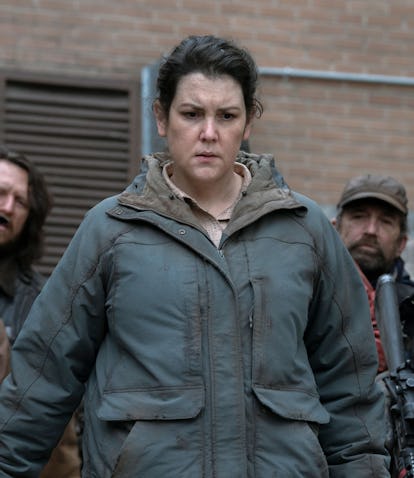 Melanie Lynskey Is In Her Murderous Survivalist Era
Her Yellowjackets and The Last of Us roles are scary good.
HBO
The Lynskey-ssance is here, and it's much bloodier than you probably thought it would be. Prior to the 2020s, Lynskey was best known as a reliable character actor in quirky indie movies and more light-hearted comedies, but Yellowjackets unleashed her inner monster when it debuted in 2021. And on The Last of Us, that monster got even darker. Now, with her The Last of Us arc beginning and Yellowjackets about to kick off its second season, it's clearer than ever that 2023 will be the year of Melanie Lynskey.
Spoiler alert: This post contains spoiler from The Last of Us Season 1, Episode 4, and from throughout Season 1 of Yellowjackets.
Lynskey first popped up in The Last of Us halfway through the zombie thriller's first season. As the bloodthirsty bandit leader Kathleen, she made more than an intimidating first impression on Joel, Ellie, and all the viewers. She shows no remorse in killing anyone who stands in her way to hunt down her nemesis Henry, and though she has an intense hatred for the fascist regime FEDRA, she has become something of a fascist leader herself.
The character will feel somewhat familiar to Lynskey fans, especially given its proximity to Yellowjackets' return (Season 2 premieres on Showtime on March 26). Like Kathleen, Lynskey's Yellowjackets character Shauna has been through it, and isn't above resorting to murder when necessary.
While Shauna may not seem quite as hardened and militaristic as Kathleen, they do share some pretty notable similarities. At their core, they are both women who weren't naturally leaders, but adapted to leadership surprisingly quickly. Shauna always played second fiddle to Jackie, but after their time stranded in the woods, she came into her own as the group's most dedicated leader as an adult. Likewise, Kathleen lived her life in her brother's shadow, but when he was killed, she had to take over the cause and embrace her more ruthless side.
Another striking characteristic Shauna and Kathleen share: Although they claim to think for their group, they let personal vendettas lead them. For instance, when Shauna killed Adam, only to later discover he wasn't actually the person blackmailing her and her teammates, she let her fellow Yellowjackets believe he really was the bad guy to cover for her husband, justify her murder, and get them to do all the messy cleanup. In the same vein, Kathleen keeps life-and-death information from her followers in order to keep them focused on chasing down her personal nemesis Henry.
Basically, TV fans are going to be seeing a whole lot of Lynskey-led carnage to kick off 2023, because right after The Last of Us ends its first season in mid-March, Yellowjackets Season 2 will start up.