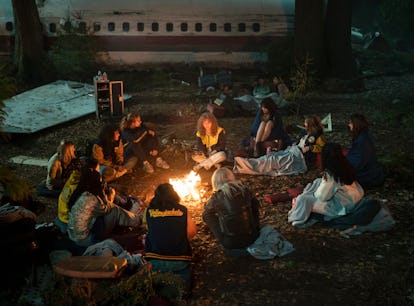 The Yellowjackets Season 2 Teaser Trailer Is Bone-Chillingly Good
Kailey Schwerman/SHOWTIME
Yellowjackets Season 1 was a critical hit when it premiered in November 2021. The Lost-meets-Lord of the Flies series began with a plane crash in 1996, taking down a New Jersey girls' high school soccer team on their way to the national championship. Stranded in the Canadian wilderness, they fended for themselves for 19 months to survive. But it's the present-day mystery, in which someone is tracking down the survivors, that makes this dual-timeline show a hit. Yellowjackets Season 2 is only expected to heighten the drama when it arrives on March 24.
Warning: Spoilers for Yellowjackets Season 1 follow. Season 1's finale left viewers with a ton of loose ends. In the 1996 teenager timeline, it had been months since the crash, and winter set in as October rolled into November. The first snow wound up with Jackie perishing from hypothermia overnight in a confusing hallucinatory fever dream, once again blurring the lines between the real and the supernatural, depending on what viewers choose to believe. Meanwhile, the adult timeline ended on a cliffhanger, as Nat was kidnapped by masked figures, just as Shauna's daughter, Callie, began to realize her mom may have bigger secrets than she initially knew.
It's unclear exactly where Season 2 will take the characters. However, Season 3 was already given an early renewal months before Season 2's debut, so fans can be assured there will be more to come.
Here's everything to know about Yellowjackets Season 2.
Yellowjackets Season 2 Cast
The teen versions of Shauna, Natalie, Misty, and Tai will be back in the 1990s timeline. That's Sophie Nélisse, Sophie Thatcher, Samantha Hanratty, and Jasmin Savoy Brown, respectively. The other team members who survived the crash are also expected to return, with both Courtney Eaton as Lottie and Liv Hewson as Van having their roles explained from recurring to main leads in Season 2.
The other current teen survivors, Keeya King as Akilah and Alexa Barajas as Mari, are also expected to return, as are Kevin Alves as Travis and Luciano Leroux as his younger brother, Javi. Steven Krueger, as the only adult in the forest, assistant coach Ben, is also still around, though it's not clear for how long. It's also not clear if Jane Widdop or Ella Purnell will be back as Laura Lee and Jackie, as neither survived Season 1.
Yellowjackets boasts an all-star cast returning as the present-day survivors of Shauna, Natalie, Misty, and Tai, played by Melanie Lynskey, Juliette Lewis, Christina Ricci, and Tawny Cypress, respectively. Likewise, Warren Kole and Rukiya Bernard are also expected to return as Shaun and Tai's respective spouses, Jeff and Simone, along with Sarah Desjardins and Aiden Stoxx as their respective children, Callie and Sammy.
Season 2 will add two more adult versions of the teen crew, with Lauren Ambrose playing Adult Van and Simone Kessell as Adult Lottie.
Lord of the Rings actor Elijah Wood has also been cast, playing a character named Walter, who, according to Showtime, will "challenge Misty in ways she won't see coming." There's also a new character named Crystal (Nuha Jes Izman), who will apparently be important to Misty. And in a guest star turn, Lynskey's real-life husband, Jason Ritter, will appear in an undisclosed role for a single episode.
Yellowjackets Season 2 Teasers & Trailers
The first spooky look fans got at Season 2 arrived on Wednesday, Dec. 7, 2022. The 15-second clip revealed the Season 2 release date as the teen girls remained trapped in the snow.
On Jan. 13, Showtime released the first Season 2 teaser trailer, which offered a look at Elijah Wood's Walter. "Kidnapping, cults, death... Your friendships are a little more complicated than most," he says to Misty, which is a more than fair assessment of the Yellowjackets plot.
The trailer also features Nat getting hypnotized in the present day as she tries to remember her harrowing past. When asked what she sees, she responds, "Darkness. We brought it back with us." It looks like Season 2 is going to dive into a lot more of that darkness... and the possibly supernatural elements behind it.
Yellowjackets Season 2 Filming Updates
On Dec. 16, 2021, five episodes into the 10-episode first season, Showtime announced the series would return for a second installment. In a statement to Deadline, Showtime's president of entertainment, Gary Levine, boasted about the show's ability to pull in streaming subscribers to Showtime's standalone service, doubling the number of viewers with each weekly installment.
Deadline noted the Season 1 finale had only just completed editing when the announcement arrived, and the production didn't assemble the Season 2 writers' room until January 2022. Filming for Season 2 began in August 2022 and is expected to wrap in February 2023, about a month before the new season's debut.
Yellowjackets Season 2 Premiere Date
Yellowjackets Season 2 will premiere on March 24, 2023, on Showtime. Season 3 is expected to start filming in late 2023 and debut in 2024.
This article was originally published on