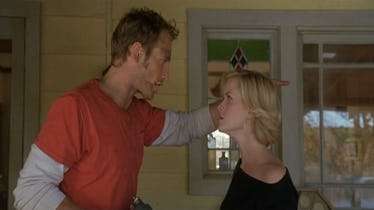 Josh Lucas Is Down For A 'Sweet Home Alabama' Sequel & That's The Best News I've Heard Today
Buena Vista Pictures
Someone get Reese Witherspoon on the phone, because a certain star of a beloved early 2000s rom-com is ready for round two. Could a Sweet Home Alabama sequel happen? You bet your sweetest jam that now there's a hopeful sliver of possibility, thanks to Josh Lucas' latest comments.
Lucas portrayed Jake Perry in the 2002 comedy — Alabama native and NYC transplant/fashion designer socialite Melanie Smooter-Carmichael's (Reese Witherspoon) ex and childhood pal. Spoilers ahead for Sweet Home Alabama, which is nearly 20 years old at this point and has played on cable for what feels like every weekend since then, but that's cool. Melanie's set to marry Patrick Dempsey's character, wealthy and dashing New Yorker Andrew Hennings. She returns home to her small town of Pigeon Creek and (surprise!) realizes the feelings for her former flame Jake are still burning. She ends up breaking off her engagement and all is right in rom-com land. There's a kiss in the rain and everything. But perhaps there's still more story to tell.
Josh Lucas opened up about a potential sequel chatting with The Talk on Tuesday, revealing he would "do it in a second," given the opportunity. The actor remarked,
I think it would be so fascinating and obviously I don't know where it would go, but I think it would be so fascinating to see where these two characters and the children and where everyone ended up. Are they still together? Are they divorced? Do they want to be back together? I mean, there's so many different ideas that I think, you know, we all know life is long and complex and they had an interesting relationship to begin with, the two characters.
"I mean, the fact that they were together from when they were children, I would love to see what's going on 20 years later," Lucas added.
Josh Lucas, who currently stars in Paramount's Yellowstone, even admitted he had broached the follow-up idea with his former co-star Reese Witherspoon.
"I've even reached out to Reese, and I know Reese has said as well — it's one of those, it's an iconic film," Lucas revealed to Access Hollywood. "I would love it because I would love to see where these characters ended up or where they are at this point in their lives."
"I kind of love the idea that they have actually divorced and been divorced for a while and he wants her back," he shared, when asked how he would want to pick up the story.
Reese Witherspoon clearly isn't opposed to reprising iconic roles from earlier in her career — Legally Blonde 3 was officially confirmed in June.
"I love Sweet Home Alabama! We are not making a sequel that I know of, but if Disney wants to call me, I would happily make a Sweet Home Alabama 2," Witherspoon commented during a Facebook Live session in 2016.
Reese is currently filming Big Little Lies Season 2 and serves as a producer on the HBO hit. In addition to upcoming films and the miniseries Little Fires Everywhere, she's also developing and is set to star in a TV project alongside Jennifer Aniston that will explore the morning news show world.
If fans of Sweet Home Alabama are lucky, maybe she'll find time to get back to her rom-com roots and take another trip down South.