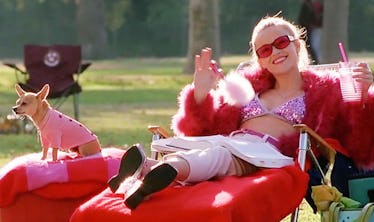 Reese Witherspoon Just Confirmed 'Legally Blonde 3' Is Happening & OMG, You Guys
MGM
What, like it's hard? Just a few days after news circulated that Legally Blonde 3 was in the works, Elle Woods herself confirmed the news on Instagram. Yes, Reese Witherspoon just confirmed Legally Blonde 3 is happening in the most Elle Woods way possible and I am screaming. If there ever was a perfect movie announcement, this would qualify. (If you don't know that I've already made two references to Legally Blonde: The Musical in this article, do you even stan Elle Woods?!)
The announcement came via Witherspoon's Instagram on the morning of Thursday, June 7. In the video, Witherspoon appears to be wearing the actual pink sequined bikini from the original movie while she floats in a pool past the camera. She's referencing Elle Woods' Harvard admissions video she made in lieu of an admissions essay. The original clip shows her hanging out in a hot tub in the pink, sequined bikini, as well as B-roll from her sorority meetings, and more chilling in a pool, naturally. Witherspoon's video confirming that she's returning for Legally Blonde 3 pays homage to that scene in the most perfect way imaginable.
The only thing that could make this video better would be if Bruiser showed up in a pool float.
It's been 15 years since the last Legally Blonde movie released. The original came out in 2001, and the sequel, Legally Blonde 2: Red, White & Blonde came out in 2003. The second wasn't nearly as well-received as the first, so it seemed for a while that the possibility of a third installment seemed slim. But Witherspoon stans can rejoice because this movie is officially happening.
Fans were already pumped for just the possibility of a third movie happening, but now that it's confirmed, they're freaking out.
According to Deadline, Witherspoon's production company, Hello Sunshine, will reportedly produce the film along with MGM and the original film's producers, Marc Platt and Platt Productions president Adam Siegel. Legally Blonde original screenwriters Kirsten "Kiwi" Smith and Karen McCullah are also in talks to write the script.
The film reportedly still needs a director, and fans on Twitter are hoping Witherspoon will bring in a woman for the job.
Legally Blonde and Legally Blonde 2 were both directed by men — Robert Luketic and Charles Herman-Wurmfeld, respectively.
In an appearance on The Late Late Show on March 16, 2017, James Corden asked the Big Little Lies actress if she would do a third Legally Blonde after Luke Wilson (who starred alongside Witherspoon in both of the previous films) said he'd be interested in doing another. "Yeah, I would. I think it'd be kind of cool to see her 15 years later," Witherspoon responded. "Like, what's she doing now? What do you think? I don't know! But I'd need a good idea."
Corden suggested Elle Woods could be the first female president of the United States if a new movie were to happen, an idea Witherspoon was into. She said, "She could be a Supreme Court Justice, or a really great, powerful attorney. Or she could be in prison?! She could be anything, I don't know!" In a 2015 appearance on Fashionably Late with Rachel Zoe, Witherspoon was asked the same question by a fan. She answered, "I think it would be cool. I think we're ready to see Elle and see what she's up to lately."
Witherspoon revealed that writers had been pitching ideas for a third installment for years, but nothing stuck. "A lot of writers over the years have come up with different ideas for it," she said. She continued,
I actually think it's kind of great right now because we're talking about women in politics and how important that is to get more women. And I think it'd be kind of a cool thing to have her be a Supreme Court Justice or somebody who runs for office, president.
Given Elle Woods' secured place in history as one of film's most powerful female characters and Reese Witherspoon's freshly cemented reputation for creating powerful roles for women with shows like Big Little Lies, Legally Blonde 3 is already gearing up to be a success.