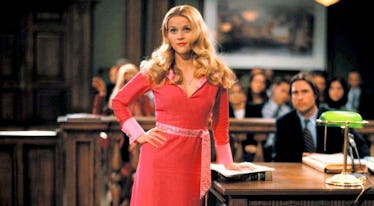 'Legally Blonde 3' Is Officially Happening So Start Brushing Up On Your Legal Jargon
Metro-Goldwyn-Mayer
The world has gone entirely too long without an update on Elle Woods' life, but thankfully, that is about to change. After 15 years away, MGM studios is bringing back the Legally Blonde franchise for a third movie, and Reese Witherspoon is set to reprise her iconic role as the go-getting sorority girl-turned-lawyer Elle Woods, according to Deadline. So when does Legally Blonde 3 premiere, and what can fans expect the new movie to be about? Let's get into everything we know.
The original Legally Blonde writing team of Kirsten "Kiwi" Smith and Karen McCullah are reportedly in final talks with MGM studios right now to pen the script for Legally Blonde 3, and the movie's original producer Marc Platt is on board to produce the new movie as well. Most exciting of all, of course, is that Reese Witherspoon is nearing a deal with the studio to play a grown-up version of Elle Woods for the sequel, along with also being added on as a producer. While Witherspoon's deal is not completely firmed up yet, it sounds like she is going to be on board, as the writers are reportedly set to begin work on the new script immediately and the creative team is currently on hunt for a director.
Clearly, the movie is still in its very early stages, but the Legally Blonde 3 team is teasing that the new film hopes to recapture the fish-out-of-water idealism and can-do spirit of the 2001 original movie. The new team is also emphasizing that the new movie will focus on female empowerment at this time in our culture, which was an aspect of the first movie that garnered widespread praise.
Aside from Reese Witherspoon's near-deal to star in Legally Blonde 3 as Elle Woods, we do not yet know if any other members of the original movie's cast will reprise their roles for the new movie. Both Jennifer Coolidge's character of kind-hearted beautician Paulette and Luke Wilson's ever-supportive boyfriend Emmett reprised their original roles in 2003's Legally Blonde 2: Red, White & Blonde, so we can hopefully expect to see them again if Witherspoon signs on. After all, it would be strange to see a grown-up Elle Woods without Emmett as her husband and her bestie Paulette still at her side. Another return we can hopefully expect is Selma Blair as Elle's enemy-turned-friend Vivian, who ended Legally Blonde as one of Elle's closest confidants... even though she never appeared in the movie's sequel.
Although it has been 17 years since Legally Blonde premiered back in the summer of 2001, the movie has remained a pop culture fixture up to this day thanks to its hugely quotable dialogue, its constantly relevant message, and of course, the fact that it has been revived in a few different iterations. The movie spawned a 2003 sequel, a 2009 direct-to-DVD spinoff, and most notably, a Tony-nominated Broadway musical. Legally Blonde: The Musical debuted on Broadway in 2007, infusing the story of the movie with catchy original songs.
Since the Legally Blonde 3 team is still finalizing the negotiations stages and the script still has to be written, it is way to early to know when the movie will be premiering. But, if everything moves along easily enough, then there is definitely hope that we might get to see Legally Blonde 3 hit theaters in 2019, or maybe 2020.
Until then, we are just going to have to keep imagining what a grown-up Elle Woods will be like. I guess we can all just watch Big Little Lies to get a possible glimpse — I definitely think Madeline Mackenzie and Elle Woods share a wavelength.