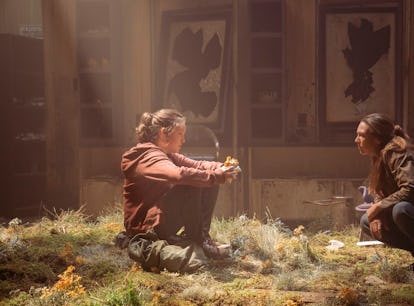 The Last Of Us Wasn't Filmed In The US After All
No need to worry about zombies on your trip.
Liane Hentscher/HBO
HBO has found success yet again with The Last of Us, which has already been renewed for a second season. Of course, zombie TV shows and movies are nothing new, but what makes The Last of Us stand out is its ability to recreate the post-apocalyptic world known to fans of the video game. The abandoned and overgrown cities are hauntingly beautiful at times, which is why some fans are curious where The Last of Us was filmed. While Joel is on a mission to take Ellie across the United States in the show, The Last of Us was actually "the largest-ever production in Canada."
That means if you'd like to visit a desolate Boston from Episode 2 with plant-covered buildings that give the city a vibrant green hue or Frank and Bill's neighborhood from Episode 3, you'll need to go on your own mission — and bring a passport. Production chose Alberta, Canada for most of The Last of Us filming, and used different towns and cities within the Canadian province to recreate the deserted cities Joel and Ellie travel through. While it may not look exactly like The Last of Us' bombed and moss-covered buildings with flooded hotel lobbies when you visit, fans may be able to recognize a few specific The Last of Us filming locations during their trip.
Where Was The Last Of Us Filmed?
HBO reportedly built a massive set for The Last of Us near Stampede Park in Calgary. The set included faux-brick buildings and was made for the Boston lockdown zone that Joel resides in. While the set was likely taken down once production stopped, there are more locations in Calgary you can still visit. For instance, Bella Ramsey, who stars as Ellie in the show, shared a BTS photo from Episode 2 that was filmed in Calgary. With the downtown skyline in the background, Ramsey, Pedro Pascal, and Anna Torv posed next to a flipped over car on the highway.
Other towns and cities in Alberta that were used for the HBO show include High River, Fort Macleod, Edmonton, and Canmore — which was Pascal's favorite filming location. All are gorgeous places to visit in Canada if you've never been. High River's downtown looks like the town Joel, Sarah, and Tommy are trying to escape from in the first episode, but that was actually in Fort Macleod, according to Atlas of Wonders. The watch repair shop that Sarah goes to in Episode 1 is in Fort Macleod as well on 2nd Avenue. In the series, she takes a bus from school to get there, but IRL the watch shop is almost two hours away from Lord Shaughnessy High School, which is the school used for filming in Calgary.
The Miller's home from the pilot was located in High River, which is also where the diner Joel carries Sarah through while they're being chased by a zombie is located. During your trip, grab a bite to eat at Evelyn's Memory Lane Diner — no need to worry about zombies as you're sipping on a milkshake. Another restaurant you could visit is Pho Anh Huyen Vietnamese Noodle House in Calgary. This eatery was used for flashback scenes in Episode 2 when the infection was first discovered in Indonesia.
The gas station from Episode 3 that Joel and Ellie stop in on their way to visit Bill and Frank is the Priddis General Store. Speaking of Bill and Frank's house, that was built for the show in the Beachwood neighborhood of High River. During your Last of Us-inspired trip, you'll want to stop by the Massachusetts State House from Episode 2 too, which is actually the Alberta Legislature Building in Edmonton. You can actually go on a tour of the building, though it'll look much different than it does on the show without any infected in the area.
Curiocity also reported that both Southern Alberta Institute of Technology and Mount Royal University were given a dystopian makeover so that they could film some scenes on campus. One Twitter user revealed that they had to remove the snow to make it look more like the fall, while another joked, "Going to class at MRU has gotten really weird with the whole zombie apocalypse thing going on at the same time."
Unless you're a student or interested in attending these schools, visiting them is not recommended. Another location that will be hard to visit is the Northland Village Mall in Calgary. The mall was shut down in 2021 for renovations, but The Last of Us was able to to use the rundown mall for production last year, according to the Daily Hive. To make it look abandoned, production filled the mall with leaves and debris.
This isn't the first time that Hollywood has used our neighbors up north instead of shooting somewhere closer to home. Tax breaks are a big reason why a production may opt for a certain location over something more realistic. Since Alberta, Canada started offering a Film and Television Tax Credit in 2021, the province has seen an increase in productions choosing to film there and The Last of Us just so happens to be one of them. There was one location filmed in the U.S., though. Some additional footage was shot in Kansas City, Missouri last fall, so it may be easier to visit that location first if you happen to be in town.