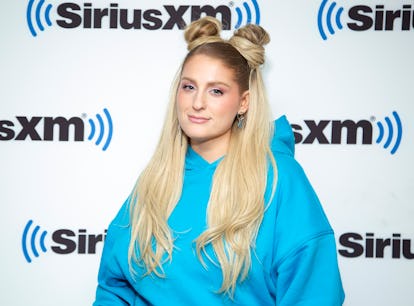 Meghan Trainor Is Pregnant With Baby No. 2
She shared the news with a fab IG.
Santiago Felipe/Getty Images Entertainment/Getty Images
Meghan Trainor is pregnant again! On Jan. 30, the "Made You Look" singer announced she and her husband, Daryl Sabara, are expecting their second baby. The news comes nearly two years after the couple welcomed their first child, a son named Riley, in February 2021.
Trainor posted her dreamy, almost-retro pregnancy reveal on Instagram. "BABY #2 COMING THIS SUMMER @darylsabara," Trainor captioned the picture, which sees her blowing a kiss at a set of ultrasound images. She fittingly tagged her husband in the post, who also shared the baby-to-be news on his own Instagram.
Trainor also surprised the Today show with her new pregnancy. OK, prepare yourself because this moment will make you sob and smile simultaneously. ICYMI, the singer virtually appeared on the show to promote her upcoming book, Dear Future Mama, which comes out April 25. As Today host Hoda Kotb opened the first page of the book, she excitedly gasped and revealed Trainor's ultrasound images were hidden inside.
"We're pregnant!" Trainor yelled, standing to reveal her baby bump. According to an exclusive from People, the pop singer is currently four months into her second pregnancy.
Trainor first hinted at her pregnancy news in a TikTok video, which shows her family reacting to a "secret [she's] been keeping for the past few months." Now that the news is out, the singer couldn't be happier about her future.
"What a blessing. I'm just so grateful I can get pregnant," Trainor told People, adding that she wants four kids with her husband. She shared that same dream number with Elite Daily in November 2022; however, she wasn't sure if she was ready to expand her family yet.
At the time, she freshly released her album Takin' It Back, and she toyed with the idea of potentially touring the new record while also becoming pregnant again. "I definitely don't know if I want to be pregnant [and] with a toddler and then on tour dancing every night," she said.
Though she hasn't taken her album on the road, it's sweet to see she's focusing on her family first. Trainor also told People this second pregnancy feels more "real" than her last, which involved some rocky challenges.
"I had no symptoms with Riley to the point where I was like, 'We need to go to the doctor. There's nothing in me,'" Trainor told the outlet, adding that her symptoms came quick with her new baby. "I got red perioral dermatitis all over my face — so that's been fun with makeup — and popped early and was very nauseous."
Even with these symptoms (or what Trainor called "her grossness"), she's excited to tell her truth in her upcoming pregnancy book, Dear Future Mama, and have other mom's relate to her experience. "When someone goes, 'Oh my God, me too,' then it makes me feel like I'm not alone, and I'm like, 'I'm not weird, my body's not different. It's normal.,'" she said.
Congratulations to the lucky couple!